Mayku's guide to thermoforming technology, types, applications, materials, and more
Out of the hundreds of manufacturing processes and plastic materials that have been developed in the past decades, thermoforming stands out, enabling users to make high-quality parts and molds in minutes. At Mayku, we're taking this to the next level by ensuring that thermoforming is accessible in our 3D forming product family, which includes the Mayku FormBox and Mayku Multiplier.
This guide will examine thermoforming, its most popular processes, industry applications, and range of materials.
"Thermoforming" refers to an industrial manufacturing technique in which a plastic sheet is heated to a temperature at which it is pliable, formed on a template and trimmed – by hand or machine – for specific use cases or requirements.
A template – also known as a buck, former, or tool – is an object that is inserted into a thermoforming machine that will give a plastic sheet a specific shape. Once heated, the plastic sheet will become pliable and form to the shape of the template, resulting in a final part or mold.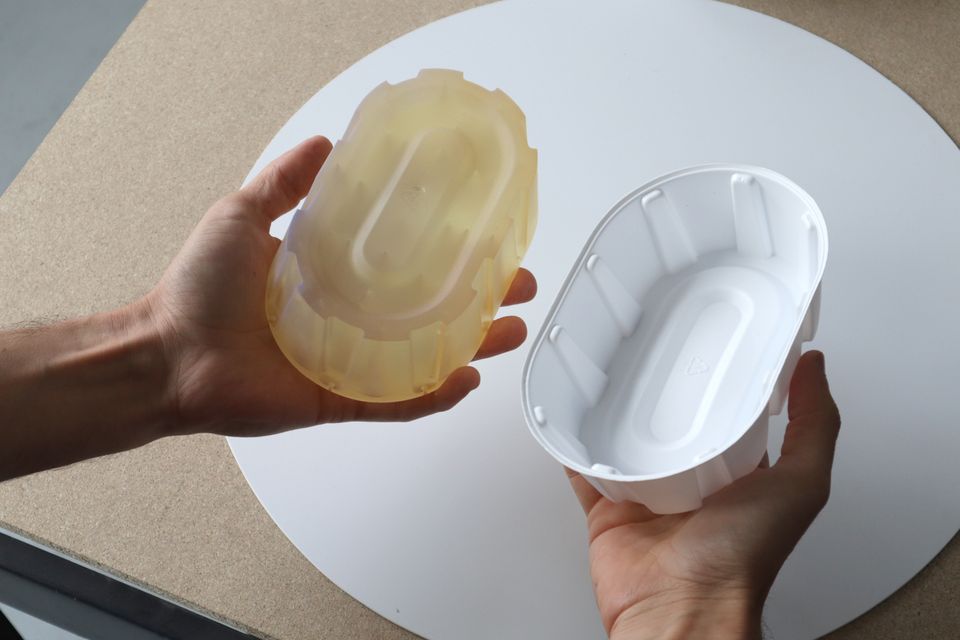 Thermoforming template (left) and Mayku-made part (right)
In vacuum forming, suction force is used to remove the air between a heated plastic sheet and a mold. This vacuum created by this force results in the plastic sheet conforming to the shape of the template. After the sheet cools and hardens, it can be trimmed or otherwise processed to meet certain specifications.
The Mayku FormBox, for example, is a compact 3D former powered by vacuum forming. It's compatible with multiple materials, including flexible and resin-resistant ones. It uses a 1000 W ceramic heater to heat a plastic forming sheet that can be molded onto a template. Once the sheet has been heated and lowered onto the mold, suction forces the heated sheet into every detail of your creation.
What is pressure forming?
Pressure forming is similar to vacuum forming. Instead of a vacuum, however, pressure forming uses pressure on a plastic sheet that has been placed in or on a template. Because pressure levels are much higher than in vacuum forming, users can leverage pressure forming to achieve higher levels of detail in the parts or tools they create.
The Mayku Multiplier is a benchtop 3D former powered by industrial pressure forming technology. It's compatible with multiple plastic types and thicknesses, and results in highly detailed final parts and molds. When filled with compressed air, the Multiplier's dome is pressurized to four atmospheres. This pressure forces a heated plastic sheet into every crevice of a mold, and is able to capture details of less than <1μm.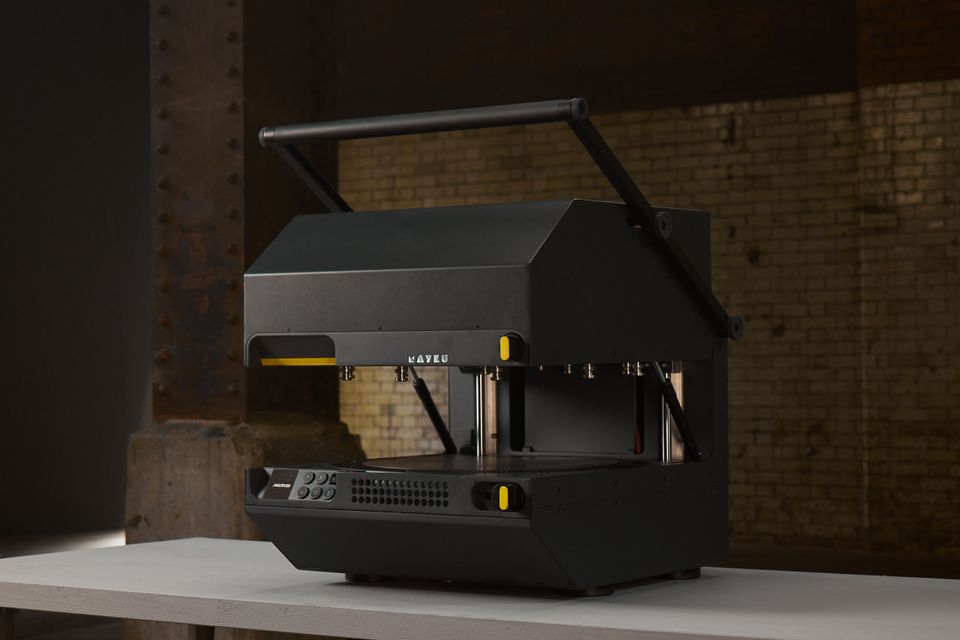 Mayku Multiplier
Other types of thermoforming
Below are a few of the other, less common types of thermoforming – each of which can be used to create parts with specific mechanical properties or aesthetics.
Mechanical forming. A direct mechanical force is applied via a core plug to push heated material into a mold. The result is a highly precise and detailed surface.
Drape forming. A heated plastic sheet is heated to a state where it can be draped over a mandrel. This type of thermoforming requires limited tools and is thus relatively inexpensive. It is used to create strong, curved parts.
Matched mold forming. A forming machine brings together a "male" and "female" mold to shape a heated plastic sheet. Matched mold forming is most often used to create parts that require higher degrees of accuracy.
Twin sheet forming. Two layers of heated plastic sheets are forced together to create a singular part or tool. Often used to create hollow or double-walled products.
Billow forming. Rather than molds, billow forming uses air jets to blow plastic sheets into certain shapes and sizes. Billow forming is a "free-form" thermoforming technique.
Benefits of thermoforming
Thermoforming offers both manufacturers and end users a range of benefits. Among them:
Affordability. For small production runs, thermoforming techniques such as vacuum forming or pressure forming are often less costly than processes such as injection molding. This is because vacuum forming brings with it a lower tooling cost.
Speed. With a faster turnaround time than many traditional manufacturing methods, vacuum forming and pressure forming have the potential to be much faster. Versus injection molding, for instance, thermoforming usually takes half the time.
Flexibility. Because it is often cheaper and faster, thermoforming enables both designers and manufacturers to more easily create and test prototypes – especially because molds can be made of easily modified materials such as wood or structural foam.
Food-safe materials. Thermoforming technology can be easily used with plastic materials – such as high-density polyethylene – that are able to be sterilized and thus suitable for containers used in the food and beverage industry.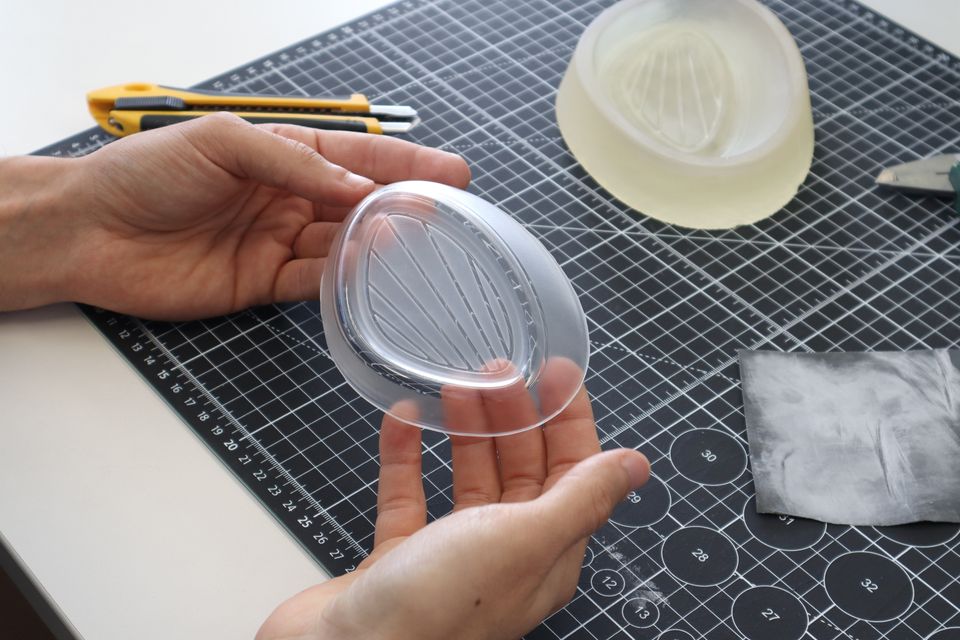 PMMA part made with the Mayku Multiplier
What is thermoforming used for
Thermoforming is used in a wide range of industries and sectors. The packaging industry, for instance, is a great proponent of the technology. Additionally, thermoforming is used by companies in industries such as aerospace, automotive, medical, construction, and transportation.
As far as specific applications, one ubiquitous example is the interior lining of refrigerator and freezer doors. Braille, interior parts for automobiles, food containers and packaging, and skylights are additional use cases of thermoforming technology, as are OEM and medical equipment covers, CRT housings, and more.
What is thermoforming used for: Thermoforming applications: A practical guide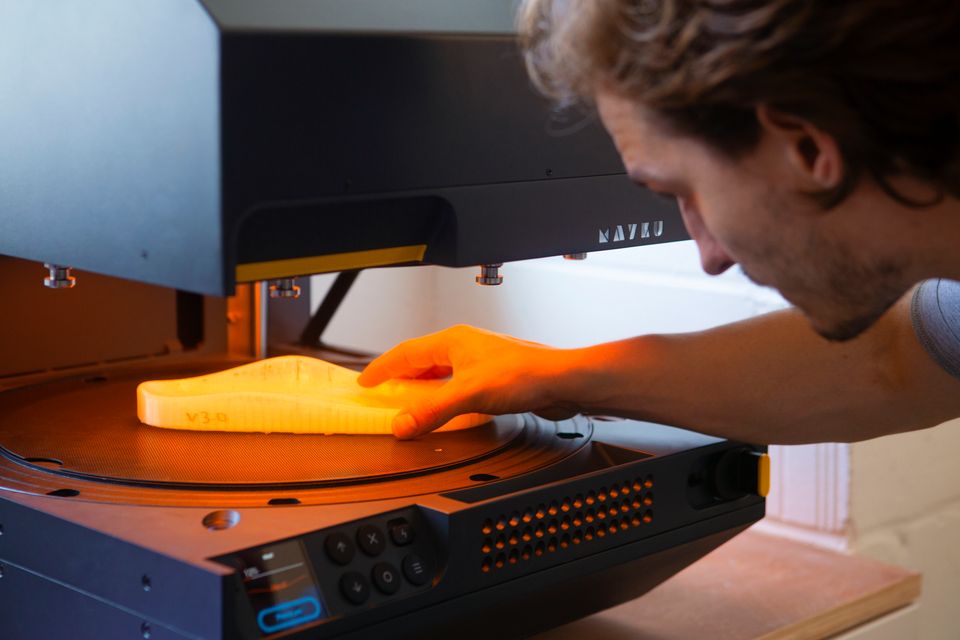 Thermoforming templates being placed in the Mayku Multiplier
Popular thermoforming materials
Another benefit of thermoforming is its ability to be used in conjunction with a wide variety of materials that offer different mechanical properties. This enables users to select the right material for them, resulting in a higher-quality part that is better suited to a particular job. A few of the materials used in thermoforming include:
PETG. Exhibiting good hardness, chemical resistance, impact resistance, transparency and ductility make PETG a good candidate for food-grade tools or parts. It's also a material offered by Mayku.
HIPS. Stable, low cost, and impact resistant qualities make HIPS well-suited to thermoforming – and is one of the materials offered by Mayku for our 3D formers.
EVA. Another material offered by Mayku, with low-temperature toughness and UV resistance.
Acrylic (PMMA). Transparent and with high impact and chemical resistance, acrylic is often used for protective equipment such as draft shields.
UHMW. Incredibly durable and resilient form of polyethylene. Resistant to wear and tear and can outperform traditional steel components in some cases.
ABS. Common material known for strength, impact and heat resistance, and rigidity.
PC. Durable, UV-resistant, and lightweight, PC is an excellent material choice for machinery parts and lighting fixtures, such as skylights.
PP. PP is a popular thermoforming material due to its desirable characteristics, such as heat, chemical, and fatigue resistance, as well as its cost-effectiveness.
LDPE. LDPE is a chemical-resistant material with high strength and slight flexibility.
HDPE. HDPE offers similar properties as LDPE, but it has increased density and more resistance to stress cracking.
Cellulose acetate butyrate. Tougher than cellulose acetate, with low moisture absorption, with good transparency and weathering resistance. Can be used to coat metal and wood – or to create steering wheels, blister packaging, or pens.
Cellulose acetate. Easy to use, highly durable, and flexible. Often used to create eyeglasses.
PVC. Chemical-resistant, strong, rigid, and flame-retardant properties.
Polystyrene. Stable, a great insulator, water-resistant, and lightweight, polystyrene is a solid choice for industrial construction and consumer goods.
Learn more: Thermoforming materials: A comprehensive guide
Thick and thin gauge thermoforming
The gauge of thermoplastic material will differ depending on how thick or thin your end part must be.
For end parts with thicknesses of less than 1.5 mm, it is best to use "thin gauge" thermoplastics, which are increasingly popular in the creation of product packaging. Thin gauge thermoforming materials are able to be produced quickly and at high volumes – and can also be created on the Mayku FormBox.
Thick gauge thermoforming is best for products with thicknesses between 1.5-12.7 mm. It is best for the creation of parts that require higher durability and impact resistance. Typically, thick gauge thermoforming products are lighter. Thick gauge thermoplastics can be created on the Mayku Multiplier.
Get started with thermoforming
Leveraging thermoforming together with 3D printing enables organizations to take steps toward developing an all-in-one manufacturing solution, with templates being created with 3D printers and final parts with thermoforming.
Want to learn more about how Mayku can help you achieve this – or about thermoforming technology? Visit our blog, where you can read a great deal of information on the subject. Or reach out to schedule a session with a Mayku specialist.