Thermoforming materials: A comprehensive guide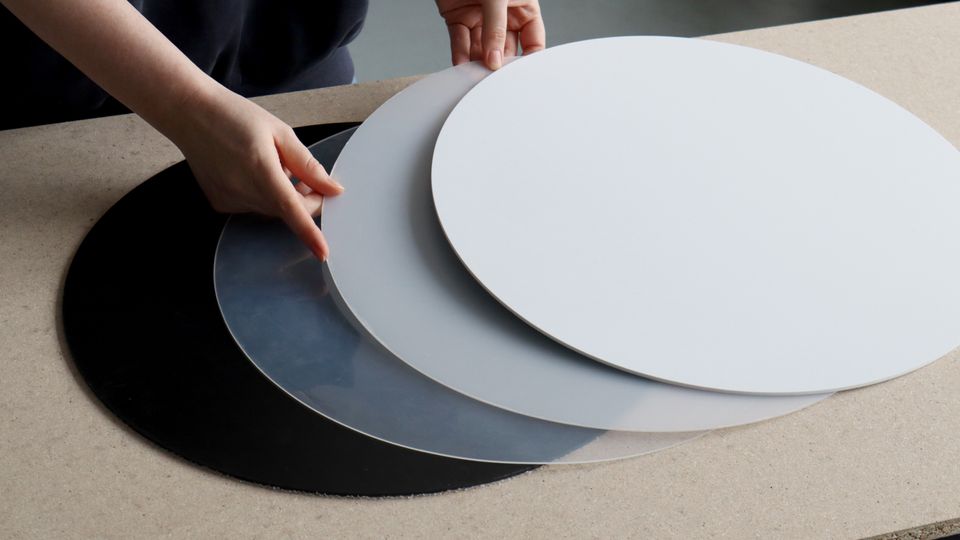 Learn about popular thermoforming materials, their properties and applications with this guide
Choosing the right material is a crucial part of the thermoforming process, as the material's properties and applications will determine the success of the thermoforming project.
In this guide, we discuss some popular thermoforming materials included in Mayku's material portfolio, including an explanation of their material properties and a list of applications.
Common thermoforming materials
When it comes to thermoforming, the choice of material is hugely important. It is essential to choose a material that is compatible with the desired application and the end product. Different materials have different properties and capabilities, so it's helpful to understand these materials and their properties in order to make an informed decision.
Find below some of the thermoforming materials compatible with the Mayku Multiplier.
PMMA (polymethyl methacrylate, often known as acrylic) is often used as an alternative to glass due to its excellent optical clarity. It is suitable for a variety of applications, thanks to its easy handling, processing, low weight, and cost.
Why choose PMMA for your product? Here are some reasons:
Easy to fabricate
Optical clarity equal to glass
High resistance to UV light
Good stiffness
Good abrasion resistance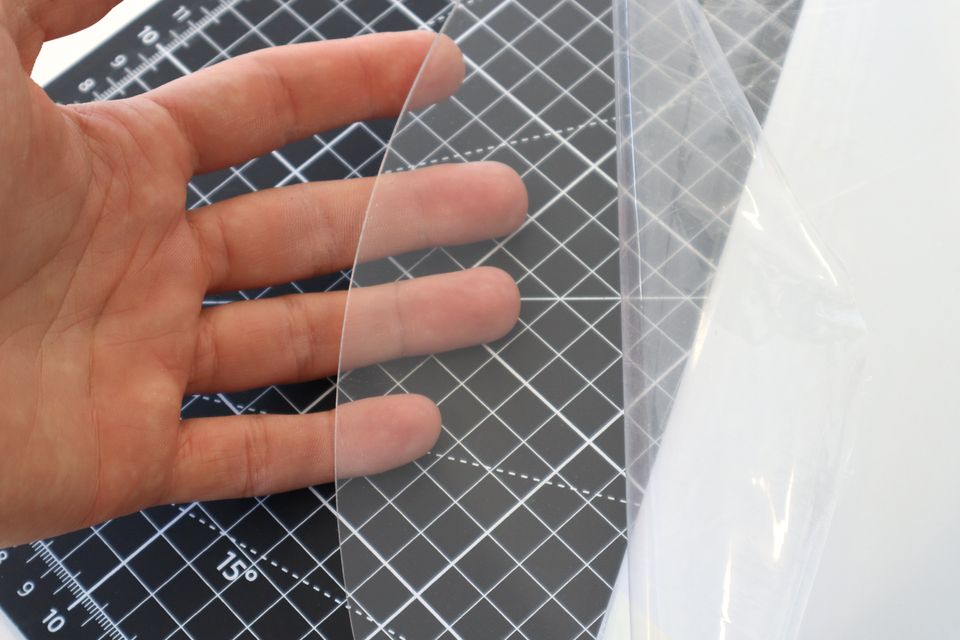 PMMA material for the Mayku Multiplier
PMMA is a popular choice of material for a number of applications due to its many advantages. It is lightweight, impact-resistant, shatterproof, and resistant to UV damage, making it a great option for rear light covers in cars. When used to make drinkware, it is lightweight, affordable, and dishwasher-safe. It also makes an ideal material for incubator lids, as it is highly transparent and impact-resistant.
PMMA is a great choice for ski lenses, as it's tough, shatterproof, weather-resistant, and optically clear. It is also ideal for thermometers due to its high temperature stability and transparency, as well as for transparent electronic housings, as it is robust, shatterproof, and an electrical insulator.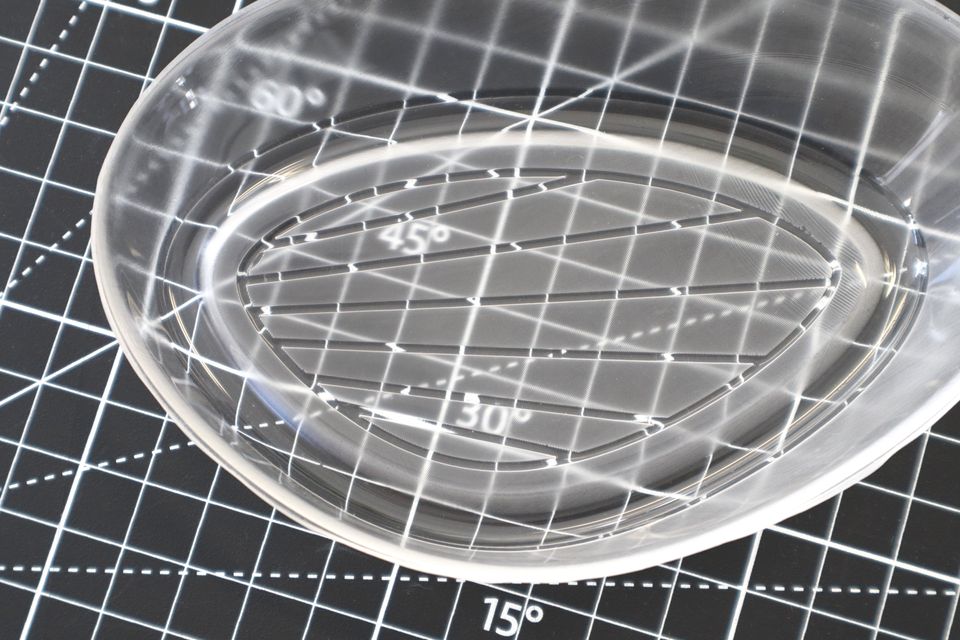 Clear component made with PMMA on the Mayku Multiplier
ABS (acrylonitrile butadiene styrene) is one of the most widely used thermoplastics today. It is a popular choice for many commercial and industrial applications due to its strength, stiffness, and chemical resistance. Moreover, its outstanding performance characteristics make it easy to process, making it an ideal material for components found in many products.
These are some of the main benefits of ABS:
High stiffness
Easy to process and bond
Good impact resistance at low temperatures
Good gloss surface finish
Excellent chemical resistance
ABS is a highly versatile and multi-functional material that is perfect for a wide range of applications. Its strength, rigidity, and impact resistance make it ideal for enclosures that need to withstand wear and tear, while its heat and moisture resistance make it perfect for kettle covers, shower bowls, and other applications in wet environments. Additionally, its lightweight yet strong and durable qualities make it a great choice for keys, toasters, toys, and automotive parts.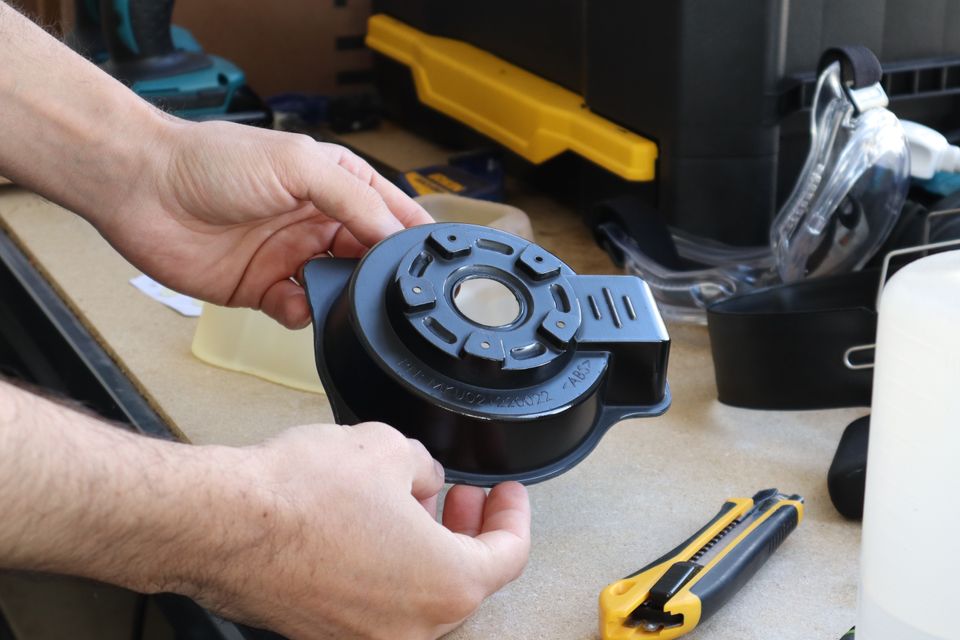 Component made with ABS on the Mayku Multiplier
UHMW (ultra-high molecular weight polyethylene) is an incredibly durable and resilient form of polyethylene. This semi-rigid material is resistant to wear and tear and can outperform traditional steel components in some cases. Its low friction coefficient makes it easy to slide on any surface without sticking or binding, making it a top choice for industrial applications and high-performance equipment.
Why pick UHMW for your product? Here are some reasons:
Ultra low friction and non-stick
High impact resistance
High strength
High tensile strength
Abrasion resistant
Chemical resistant
UHMW is a versatile material with a variety of applications. It is strong and flexible with high impact resistance, making it suitable for protective clothing such as motorcycle vests. It has a low friction coefficient, making it a great choice for gears, and is lightweight and flexible enough to be used for helmets and shin guards. It is also chemical and corrosion resistant, making it ideal for dock bumpers. Additionally, it is lightweight and offers low friction, making it suitable for use in hip bearings and exercise wobble boards.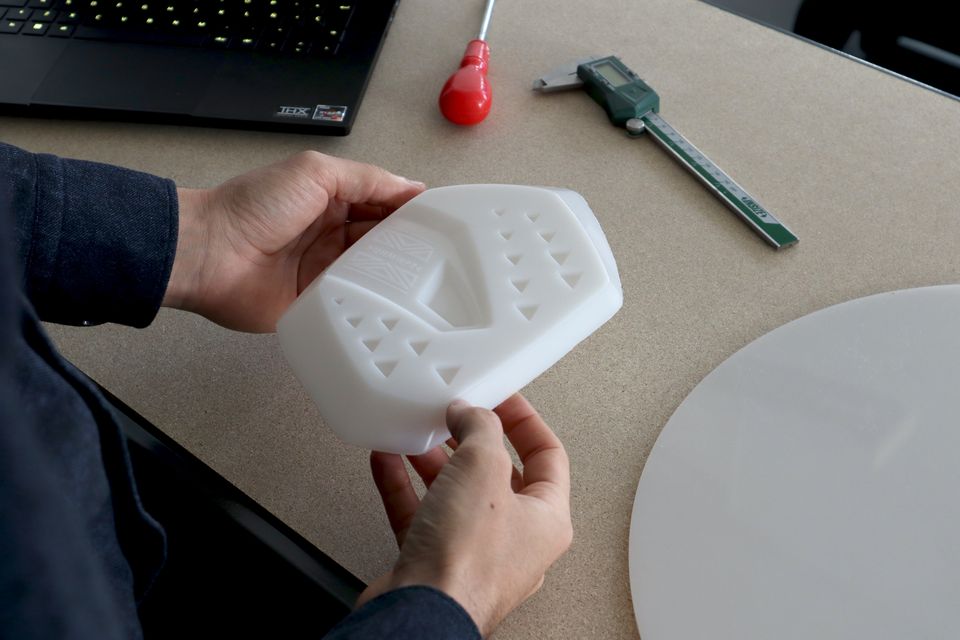 Part made with UHMW on the Mayku Multiplier
EVA (ethylene-vinyl acetate) is renowned for its flexibility, strength, and shock absorption capabilities, making it ideal for cushioning applications such as protective packaging and soles for shoes. It is also used in the production of hot melt adhesives and pressure-sensitive tapes. EVA is becoming increasingly popular in many industries due to its easy processing and recyclability, making it more environmentally friendly than other plastics.
Here are some reasons why you may considering choosing EVA for your project:
Shock absorbent capabilities
Insulating and waterproofing properties
Easy to process and recycle
Excellent flexibility
Good strength
Tear resistant
EVA can be used in a variety of applications, such as an alternative to silicon molding, making button shrouds, face brushes, food lids, ice cube molds, and even mouthguards. It is flexible and resistant to many materials, such as resins, making it ideal for creating reusable molds. It is non-toxic, has excellent shock absorbency and cushioning properties, and can withstand temperatures ranging from -35 °C to 60 °C.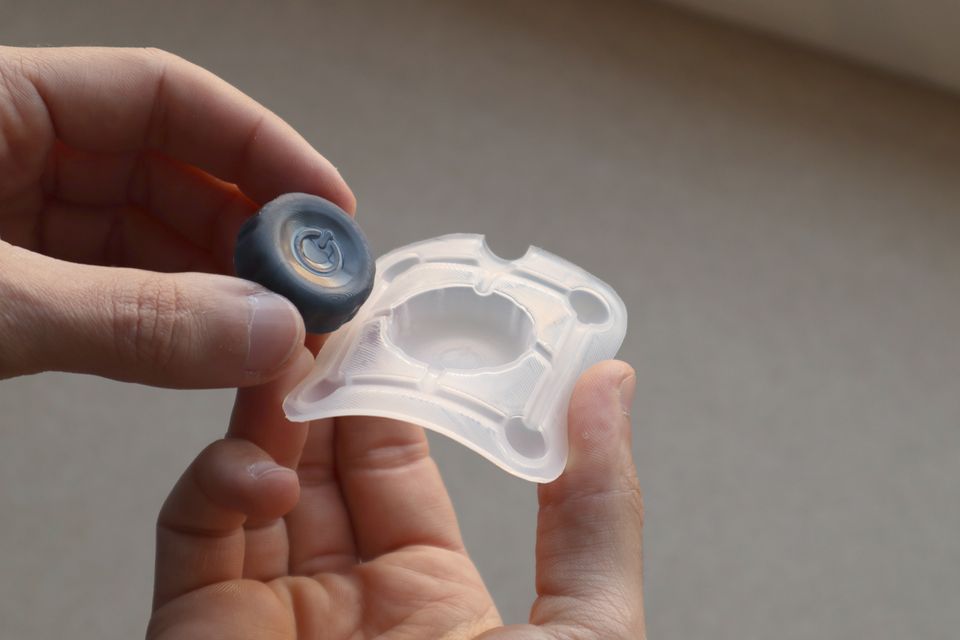 EVA molds formed on the Mayku Multiplier
PETG (polyethylene terephthalate glycol) is a rigid material with good impact resistance and great thermal characteristics, allowing it to cool efficiently without warping. It has superior chemical resistance compared to many other transparent plastics, making it a top choice for food-safe packaging, molds, transparent prototypes, and ESD applications.
Why should you choose PETG for your product?
Easy to fabricate
Fast cycle times, particularly at thinner gauges
Food safe
Semi-rigid
Good impact resistance
Optically clear
Good chemical resistance
Smooth and clean surface finish
PETG is a versatile and durable material that is ideal for a variety of applications. From food-safe packaging, to face shields, candle holders, cosmetics POS, lids, machine guards and retainers, PETG has many useful properties in a variety of applications. Its strength, optical clarity, and temperature resistance make it a safe and reliable choice for any project. Additionally, PETG is recyclable and considered food safe, making it an eco-friendly and safe material for food contact applications.
PETG food container prototype made with the Mayku Multiplier
HIPS (high impact polystyrene) is a thermoplastic that is produced by combining styrene monomer with a rubber-like polymer called polybutadiene, making it a hard and rigid plastic. HIPS plastic is lightweight and durable, making it an ideal choice for a variety of applications. It is also easy to process, relatively inexpensive, and can be easily colored and decorated with silk-screen printing.
These are some of the advantages of HIPS:
Highly durable and resistant to impact
Easily machinable and formable
High temperature and chemical resistance
Good dimensional stability
High stiffness and strength
Good electrical insulation
Low cost
HIPS is widely used in a variety of applications, including beverage containers, food packaging, disposable cutlery, toys, and medical device components. It is also used in electrical components and automotive parts, like headlight covers and dashboards. HIPS is an ideal material for applications that require a combination of stiffness, impact strength, and dimensional stability.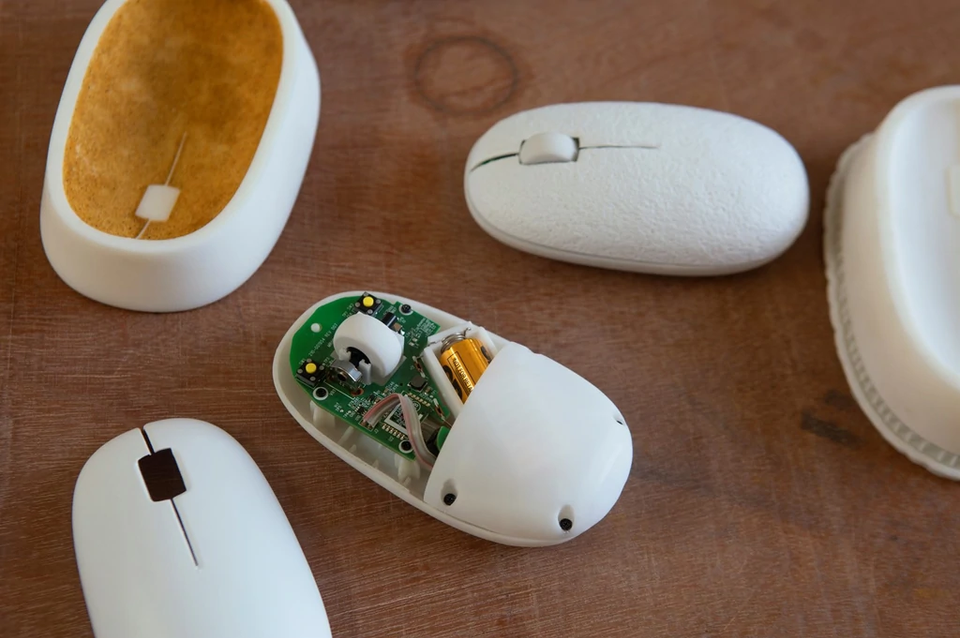 HIPS-made computer mouse prototype made with the Mayku Multiplier
Other thermoforming materials
Many other thermoplastics are used on thermoforming processes for specific applications. Here are some of them.
PP (Polypropylene): PP is a popular thermoforming material due to its desirable characteristics, such as heat, chemical, and fatigue resistance, as well as its cost-effectiveness. It is used to make storage containers, medical devices, and sporting goods.
PC (Polycarbonate): PC is a strong, heat-resistant, and weather-resistant material. It is used for safety equipment, lighting, aircraft parts and electronic devices.
LDPE (Low-Density Polyethylene): LDPE is a chemical-resistant material with high strength and slight flexibility. It's used for industrial packaging, plastic films and beverage containers.
HDPE (High-Density Polyethylene): HDPE offers similar properties as LDPE, but it has increased density and more resistance to stress cracking. It is used for containers, bottles and automotive components.
PVC (Polyvinyl Chloride): PVC is a versatile material that offers high durability, low thermal conductivity and low cost. It is used on pipes, window, furniture and building material.
We're currently working on and exploring more thermoforming materials. If you let us know which material you're interested in working with, we'll test it and provide you with rapid feedback. To do so, please fill out this form.
When considering thermoforming, the choice of material is critical. Each material has its own unique properties and capabilities, so it's important to understand them in order to make an informed decision.
If you're ready to get started, you can explore Mayku's 3D Formers or learn more about different technologies for creating thermoforming templates.
Get in touch
Let's chat about possible applications or any other ideas or questions you might have. Book a call with a member of our team below.
Find a time
Submit a question
Want to know more? Send us a question and we'll get back to you as soon as we can.
Ask now
Find a reseller
Our certified resellers have invaluable application and workflow knowledge. Connect with a reseller near you.
Connect