Making data delicious with Small Multiples custom thermoformed chocolate molds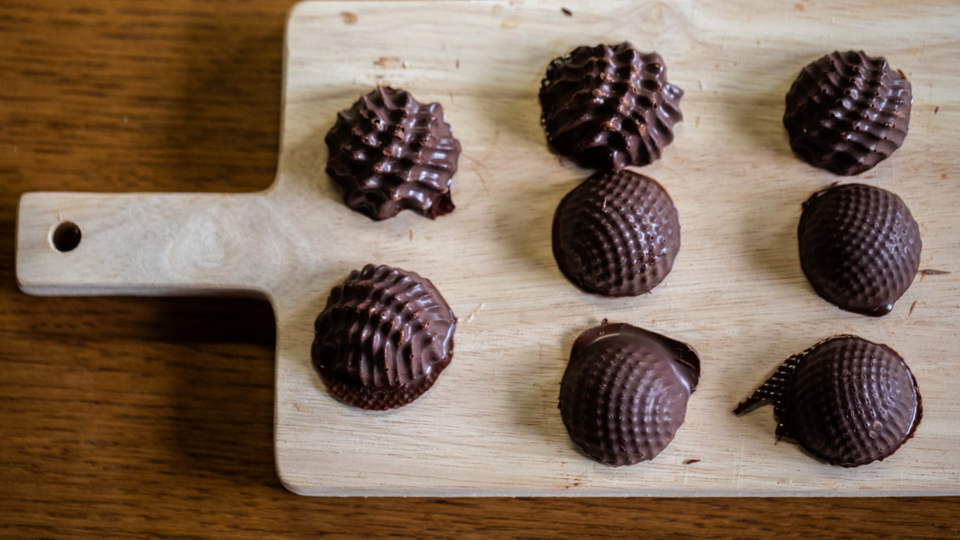 Interested in making custom chocolate molds? Generally, getting a custom chocolate mold make externally can cost you anything from £3500 and takes weeks to arrive. That's why an increasing number of professional chocolatiers and chefs are turning to desktop vacuum forming for speedy prototyping and custom molds in minutes instead of weeks and at a fraction of the cost.
Perfecting the process of bespoke and custom chocolate molds opens up unlimited creative ideas, the ability to make short runs of completely bespoke designs affordably whilst you also master a new useful skill for your kitchen or business.
Whether you're looking to create logo chocolate molds for a client or want the ability to create a shape truly unique to you, thermoforming is a great technology to consider. In this article, we're delving into a slightly less conventional use of chocolate - data visualisation.
Making custom chocolate molds to explain data
Small Multiples is a data visualisation agency based in Sydney, Australia. It works with corporate and government clients to make data more understandable to people through design.
When not working with clients, the team at Small Multiples takes on side projects intended to push the boundaries of the data visualisation field. These range from working with Sydney Design Festival to collaborating with local chocolatiers — bringing a new sensory dimension to the world of data.
How to use vacuum forming to make custom chocolate molds in minutes
One of these projects "The Taste of my Words" involves translating the sound of a user's voice into a 3D volumetric form which is then 3D printed, formed with the FormBox and cast into edible chocolates.
What problems can you solve by mold making with the FormBox, desktop vacuum former?
Time: Getting Polycarbonate molds made is a very time-consuming process. Small Multiples is based in Sydney, Australia and the company that makes its Polycarbonate chocolate molds is in Belgium. Not only is the time difference an issue in the design phase, but the actual lead time of making the chocolate mold can be anywhere between three to six months, massively impacting the development time of a project. As an agency working to tight deadlines, speed to execution is vital.
Expense: Getting a Polycarbonate mold made in Belgium is very costly. It is also difficult to create an initial prototype before seeing the final molded form, making mistakes time and cost sensitive.
Minimum order quantities: Each new mold requires a minimum order quantity. Therefore you need to be making a significant number of chocolates in order to justify getting your own set of Polycarbonate molds.
How to improve productivity and creativity using custom molds made on the FormBox
Time: Using a combination of 3D printing and the Mayku FormBox's thermoforming tech allowed Small Multiples to go from initial idea to castable custom chocolate mold in a matter of hours, rather than months. This rapidly reduced the R+D phase and got them to proof of concept much quicker.


Expense: At £1 per mold, the financial saving of using the FormBox vastly outweighed the option of getting a mold made for over £3,000.


No minimum order quantities: Small Multiples did not want to make thousands of units without testing them first. Instead of investing large sums in Polycarbonate molds and making thousands of final units, the FormBox enabled the company to initially test its designs in small batches of 20-30.
Custom Polycarbonate Molds vs. Set-Up Cost of the Mayku FormBox
So how do the two options compare at a glance? Most chocolatiers opt for custom Polycarbonate molds which have long lead times and high costs. Alternatively, you might try a silicone mold but this process is also expensive, as well as being very messy and tricky to master.
Mayku FormBox
Upfront Cost - £599
Part Cost - £1
Lead time - 3-4 hours
Quantity - 30
External Mold Vendor
Upfront Cost - £3,500
Part Cost - £3,500
Lead time - 3-6 months
Quantity - 2
Why desktop vacuum forming is a great choice for chocolatiers
As you can see, there are many advantages to taking custom mold making in house through the use or a desktop vacuum forming machine like the Mayku FormBox. Here's just a few or the top reasons why you might want to invest in this piece of technology:
Mold making time reduced from six months to a few days
Significantly reduced financial expenditure
Reduction of waste incurred producing units in smaller batches first
Still interested? Want to learn more? Check out our list of 10 Chocolate Molds made on the FormBox for further inspiration or request to Speak to a Specialist to learn how to add the FormBox to your workflow.
Get in touch
Let's chat about possible applications or any other ideas or questions you might have. Book a call with a member of our team below.
Find a time
Submit a question
Want to know more? Send us a question and we'll get back to you as soon as we can.
Ask now
Find a reseller
Our certified resellers have invaluable application and workflow knowledge. Connect with a reseller near you.
Connect