How The Chocolat Story launched Lab Cocoa DIY Kits in lockdown with the help of the Mayku FormBox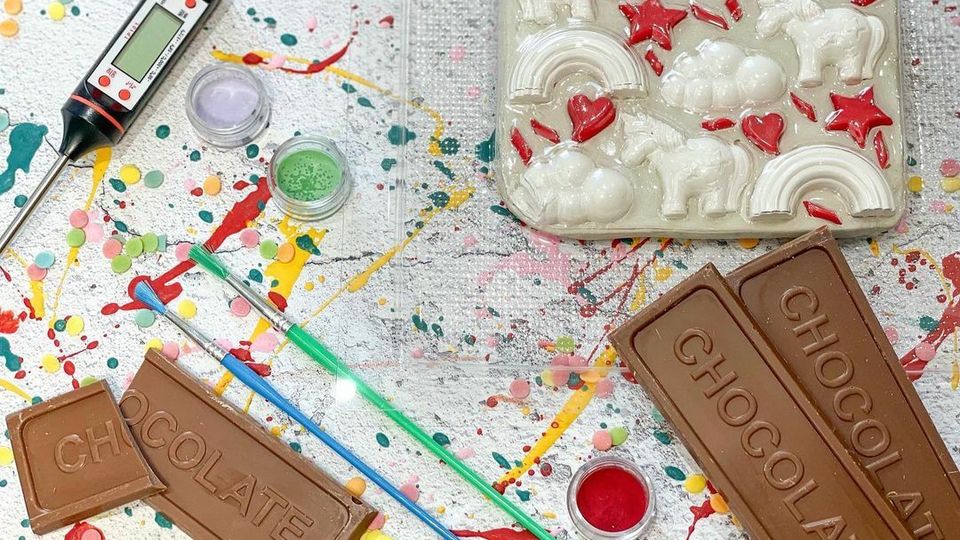 Today we're sharing the story of a chocolatier who was able to launch a successful small business during the UK's Coronavirus lockdown with the help of the Mayku FormBox. Meet Trace Clay.
Trace's original business, The Chocolat Story, started 4 years ago. Trace was bored and decided to learn the science of chocolate from a book. Then she started experimenting, sharing her creations on social media and it escalated from there. Trace had taught herself how to make chocolate. Not just melt down chocolate into bars, she learned how to make her own chocolate from beans, filling them and painting them to a high standard.
Trace is the main force behind The Chocolat Story but her family are also involved - her grandchildren sample new products, she bounces ideas off her husband and her daughter works will her on the business helping her to investigate new ideas and scale back the over-extravagant ones.
"Sometimes when I get carried away, she [my daughter] reigns me in!" - Trace Clay, The Chocolat Story and Lab Cocoa, UK
Getting inspired and growing a small chocolate business
Trace gets inspiration from lots of places. She has a network of 32 businesses that stock her products, close to a combined total of 8,000 followers on Instagram across her two chocolate brands (and growing!) and new followers who all send over any ideas and feedback. But what Trace loves the most is the feedback she receives when she's working with children.
"You get so much from young people. With adults, you don't see their full expression as they've learned to block it out. Children don't hold back." - Trace Clay, The Chocolat Story and Lab Cocoa, UK
Trace has a rich background in working with young people and schools and this is something she has taken with her when she started working with chocolate. And how Lab Cocoa was born during the unexpected circumstances of UK coronavirus lockdown. Lab Cocoa is Trace's children and education focused chocolate business, focused on selling DIY kits and remote workshops.
Trace's grandchildren were the first Lab Cocoa customers, getting involved as soon as they were able to hold a paintbrush. They love chocolate and the chocolate-making process and so Trace would get them set up with some colourful pots and brushes and they would sit and paint the polycarbonate molds for fun. Training a tiny crew of future chocolatiers whilst bonding with her family.
Before the UK went into lockdown, Trace used to run chocolate workshops face to face with children. She needed to find a new way to sustain her business with the new restrictions in place. In comes the Lab Cocoa DIY kits and workshops.
"For me, it's another way of learning. You don't need to be academic, you can do anything in the whole world if it makes you happy." - Trace Clay, The Chocolat Story and Lab Cocoa, UK
Using the Mayku FormBox to create custom chocolate molds Lab Cocoa DIY kits and workshops
Lab Cocoa was a lockdown baby, born when Trace was unable to run workshops during the coronavirus pandemic. She knew she wanted to make a kit so that people (children especially) could continue to get hands-on with chocolate from home without the expense of sending everyone a polycarbonate mold and expensive, complicated equipment
Trace realised what she needed was a vacuum forming machine and promptly searched online and found Mayku. The reviews, feedback and support were really positive and that is why she took a deeper look into the Mayku brand and social media. Trace could easily see our customers workflows - how people were making things with the FormBox and this is exactly what she needed to see if her business idea would come to life.
Once her FormBox had arrived, Trace used hand sculpted clay figures to create her templates, using a lot of trial and error to figure out how to design for vacuum forming but she got the knack pretty quickly. If you want to learn the basics of vacuum forming, check out this article on our blog
"Lab Cocoa wouldn't have been an option if it wasn't for the Mayku FormBox" - Trace Clay, The Chocolat Story and Lab Cocoa, UK
In the UK, Coronavirus restrictions changed a lot so there have been times where Trace was able to run her in-person workshops again, with the help of her Mayku FormBox and thermoforming sheets. Face to face, Trace is able to show children the entire process of making a shape, creating a mold in the FormBox and then transforming that into a finished chocolate. As much as Trace loves a real-life event, the Lab Cocoa DIY kits are going to live on and will remain pandemic proof.
During the workshops, the kids come in and pick their character then (with adult help and supervision) use the FormBox to make a mold out of it. The characters they pick are fully decorated so they can see the possible final result they're trying to make. The decorating part teaches them that the process is backwards but as the sheets are clear, they can turn it around and see their progress. Once they've painted it they can fill it with chocolate then EAT!
When real-life events aren't possible, Trace sells Lab Cocoa DIY Kits on her own eCommerce platforms, wholesale and even offers remote workshops via Zoom for when you really want an expert tip or two. In addition to Trace's Lab Cocoa line, she also uses the FormBox to create unique shapes for her main line, The Chocolat Story which continues to be a hit on social media, as well as with her paying customers.
Lab Cocoa is where it is today because of the FormBox. It helps Trace bring her ideas to life and spread joy in households worldwide with her DIY kits and that's without even going into detail about how much time and money this workflow has saved Trace and her team.
"The feedback I got from doing the kits was amazing. Being a part of their excitement makes me excited.[...] I'd be devastated if you said 'no, you can't use the FormBox anymore'" - Trace Clay, The Chocolat Story and Lab Cocoa, UK
Want to learn more? You can follow @TeamMayku on social media, join our Facebook Group, the Mayku Community or request to
Speak to a Specialist
at any time to find out how you could use a FormBox for your next project.
Get in touch
Let's chat about possible applications or any other ideas or questions you might have. Book a call with a member of our team below.
Find a time
Submit a question
Want to know more? Send us a question and we'll get back to you as soon as we can.
Ask now
Find a reseller
Our certified resellers have invaluable application and workflow knowledge. Connect with a reseller near you.
Connect