Evka Home launched a Jesmonite homewares business with the FormBox after testing out a DIY kit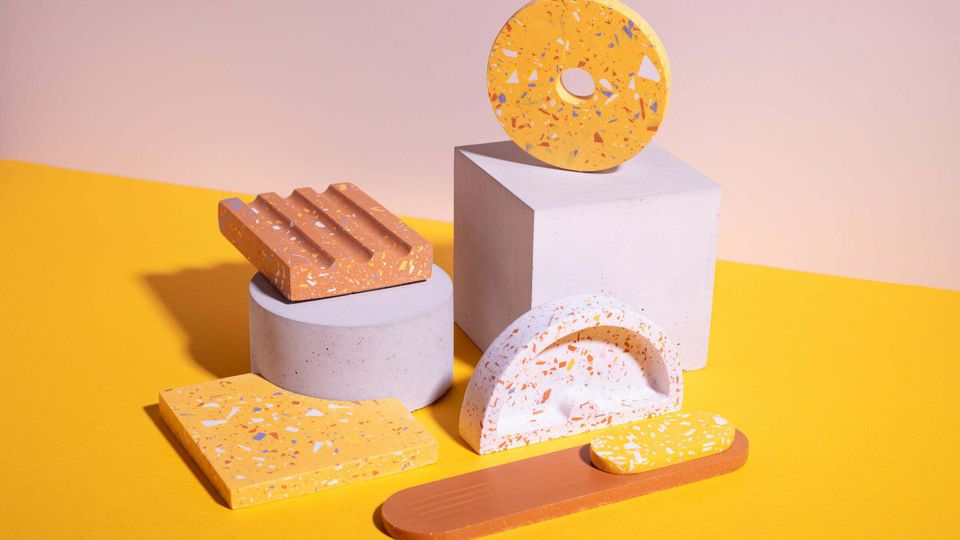 Our Mayku makers span a myriad of industries and we love getting to know them and how they use vacuum forming for their handmade businesses. Today we meet one of the up and coming creators in the Jesmonite homewares industry - Evka Home.
Meet Ewa Lefmann, owner of Evka Home. Ewa launched her part-time business in September 2020, whilst working a full-time day job as a graphic designer for a top food brand. Like many people, Ewa was drawn to taking up a new creative hobby during the UK's first Coronavirus Lockdown (which began on the 23rd March 2020) and through the wonders of the Instagram algorithm, she found her inspiration.
How to launch a Jesmonite homewares business
Being a graphic designer, Ewa is a naturally creative person, she had experimented with selling prints in the past but chose not to make 2D graphics the core of her brand this time. Whilst consumer's thoughts on homewares are just as subjective as they are with prints, the prints market is very saturated and it's much more difficult for customers to choose a print they want to see hung on their limited wall space every day than it is to choose a practical, useful object. Ewa was also keen to build a brand that paid homage to her Polish and Danish heritage through the way she built the aesthetic and product names, hence why you might have trouble pronouncing some of them - it's all part of a story.
"I used to sell prints whilst I was freelance for three years, so that kind of ran alongside my freelance practice, but it's a lot harder to sell prints than tangible objects" - Ewa Lefmann
Ewa's Jesmonite making journey began by trying out a DIY Jesmonite kit and it just clicked. She knew that someday she wanted to focus on her own projects and that Jesmonite was the material she wanted to work.
"Jesmonite it's like not really meant to be used for a craft, it's meant to be used to make like slabs" - Ewa Lefmann, Evka Home
Evka Home sells Jesmonite homewares including incense holders, trays and coasters and has made almost her entire range is made using FormBox molds. Her handmade business has gone from strength to strength during lockdown, despite the restrictions of being stuck at home.
Vacuum formed custom molds as an alternative to silicone molds
As this was a part-time endeavour with the limited space available in Ewa's home, she needed to ensure her tools and materials were time and space-efficient. This is why she knew the Mayku FormBox was the tool for her. With its compact, tabletop design and compatibility with most household vacuum cleaners, the FormBox not only makes manufacturing and prototyping easier for handmade small businesses, but it's also very cost-effective. With each custom mold only costing Ewa £1, compared to the £20+ price tag of a silicone mold it felt like a no-brainer.
"What was actually really refreshing about Mayku is that you clearly value good design and creativity. So it kind of made me feel like, okay, this is actually designed for people like me" - Ewa Lefmann, Evka Home
While there are lots of handmade Jesmonite coasters and trays on the market, Ewa was adamant from the start that she wanted to be different and not use the same silicone molds she has seen countless times on her Instagram feed. With the Mayku FormBox, she had the freedom to create and experiment with her own designs economically and from the comfort of her home without the mess and technical difficulties of working with custom silicone molds.
Creating shapes using a laser cutter for making FormBox custom molds
Making use of Ewa's experience with Adobe Illustrator, she was able to create vector artwork for each of her design ideas, which she then had laser cut in wood. Since Ewa doesn't have access to larger desktop manufacturing processes, she hired a local artist to laser cut the master shapes for her, which cost less than £100. Once Ewa's ready to cast, all she needs to do is spend a few minutes producing a batch of molds and then she's ready to make to order! No need to wait for the molds to cure, they're instantly good to go.
As Evka Home is Ewa's part-time business, she has taken pride in doing everything on her terms. This means she often pauses her store while she works on creating new products or even to have a break just to make sure her work/life balance is where she needs it to be.
Evka Home currently sells 30-100 objects each month, with each being made to order. As the FormBox makes creating new products quick, clean and cost-effective, Ewa simply makes each item when needed. This has allowed her to build a clearer idea of which products are the most successful without the need for overexerting herself to create a backlog of stock that might end up being slow sellers.
"It's just been so much easier and faster to grow a business where you're selling tangible, useful objects" - Ewa Lefmann
"My dream is to make Evka Home work and be a freelance designer. That is just a way I can work towards getting this lifestyle I want." - Ewa Lefmann
The benefits of the Mayku FormBox over other custom mold making methods
Low initial cost
It costs just £599 for everything you need to get started. Each FormBox comes with 40 sheets, 1kg of casting material, 3 starter templates and a universal vacuum adapter, Ewa could get making right away!
Significant time savings
When working on a new Evka Home prototype, Ewa does not need to spend excessive time and money going back and forth with edits to a mold designer. She can also avoid the need to make custom silicone molds, a process that can take up to 72 hours and need space to make mess. Ewa can experiment with the FormBox to test and finalise her design, seeing and feeling her alterations in minutes.
Massively reduced costs
Each new mold only costs £1, meaning one-off pieces are easy to fulfil and customer requests do not eat into her profit margin. Making one of something is simple and when she's ready to make in batches, her costs are kept low.
For more inspiration on
launching a Jesmonite homewares business
using the Mayku FormBox for your custom mold making needs, check out the other articles on our blog. Shout out to photographer,
Nathan Joyce
for these excellent photos of the work of Evka Home.
Want to learn more? You can follow @TeamMayku on social media, join our Facebook Group, the Mayku Community or request to Speak to a Specialist at any time to find out how you could use a FormBox for your next project.
Get in touch
Let's chat about possible applications or any other ideas or questions you might have. Book a call with a member of our team below.
Find a time
Submit a question
Want to know more? Send us a question and we'll get back to you as soon as we can.
Ask now
Find a reseller
Our certified resellers have invaluable application and workflow knowledge. Connect with a reseller near you.
Connect