10 Custom Chocolate Molds Made by Vacuum Thermoforming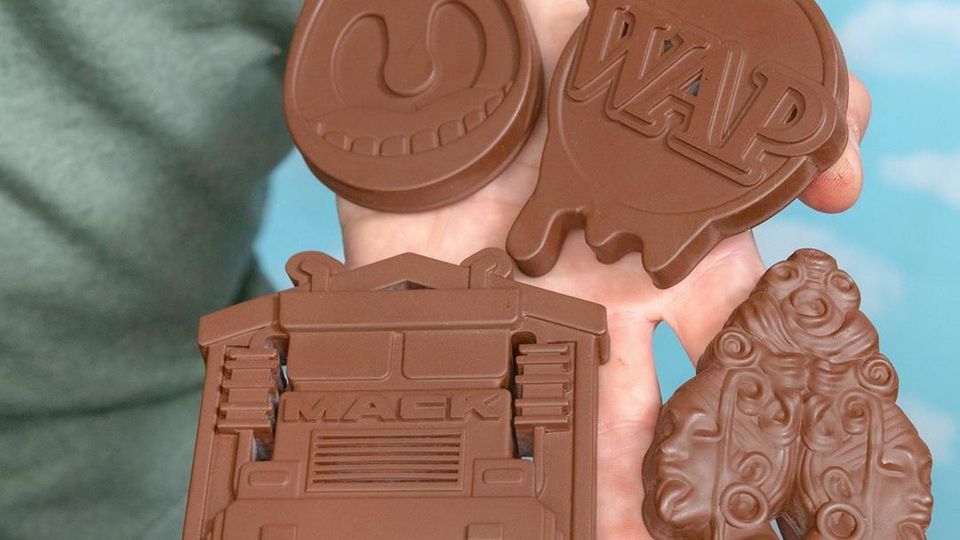 Who doesn't love chocolate? That's why we're super proud to see the Mayku FormBox in the kitchens and studios of some of the World's very best chocolatiers and pastry chefs. Want to make custom molds quickly on your desktop? Then vacuum forming could be the tool you are looking for.
If you sneak behind the scenes you'll see a FormBox in use by professional chocolate makers including: Amaury Guichon, Paul A. Young and Australia's, Meltdown Artisan. Sure, you might have been inspired to look us up by our Instagram feed but, here we wanted to delve deeper into the edible art that it being made around the World with our smiley, happy desktop mold maker.
What is a vacuum former and how does it work?
Vacuum forming isn't a new technology, it's been in development since the 1940s and popular for manufacturing plastic signs, packaging and small parts since the 1950s. What has changed in the past decade is that this techonology has become smaller, more efficient and increasingly accessible to artisan and small batch makers. There are three steps common with almost every vacuum forming machine:
A heat source is used to warm a sheet of thermoplastic until it becomes soft enough to form around a shape
The soft plastic sheet is pulled around a compatible shape or master object
A vacuum is activated to extract excess air to create a tight form of plastic around the shape
These plastic shells can be used as original objects or for molds for casting compatible materials, including chocolate, gelatine and other patisserie layers.
The FormBox is a desktop vacuum former powered by your household vacuum cleaner, simple to use, compact and most importantly, safe! Get to know our machine by watching our quick introduction video.
How to use vacuum forming for custom chocolate molds
Custom molds in minutes? Sounds great! There are many benefits to chocolatiers and pastry chefs when it comes to vacuum forming with the FormBox, here's just a few of them:
Test an idea in less than 20 minutes and at a cost of just £1 per mold
No more waiting for long lead times from the usual suppliers, you can make what you need in house - on demand
Stand out from the crowd with bespoke, one-off requests now possible within a budget and at short notice
Reduce the amount of off-the-shelf mold purchases and create unique designs that no one else has
Combine the FormBox with other desktop manufacturing tools including 3D printers, laser cutters, CNC mills and traditional sculpting methods to expand the possibilities in house
Still interested? Now it's time to get inspired. Here's what you came for; 10 custom chocolate molds made using the Mayku FormBox to help you get inspiration for your next edible creation.
If you have any questions about the our mold making machine, you can request to Speak to a Specialist at anytime or drop us a line via @TeamMayku on social media.
1. Customisable Slogan Chocolate Slabs from Meltdown Artisan, Australia
Genius chocolate makers and flavour creators, Meltdown Artisan use the FormBox for prototyping new ideas and small batch production. It also helps open up more customisable chocolate options for their customers. One such product is this simply stunning slogan slab, created on demand using a tool box of laser cut wooden letter and a simple block shape for the base. Having the FormBox and laser cutter on site means that small batch, custom chocolate moldscan be made affordably.
Check out Meltdown Artisan's website and Instagram for more delicious chocolate inspiration. We'll be dropping by as soon as we can safely visit Australia again. Team Mayku are huge fans!
2. 3D Rocking Horse Chocolate Mold by Alexandre Thabard, France
Paris based pastry chef and chocolatier, Alexandre Thabard developed this construction idea using the FormBox. Designed as a flat mold using wooden shapes, once cast in chocolate the shapes can be assembled into a delightful 3D chocolate rocking horse design; quite like those wooden dinosaur models you might have had as a kit.
For more fine patisserie action from Alex in Paris, you can follow Alexandre Thabard on Instagram. Another edible adventure to add to our future Parisian eating adventures.
3. Realistic Peanut Butter and Jelly Sandwich Chocolate Dessert by Amaury Guichon, USA
If you've not seen this tasty treat already on your Instagram scrolls, where have you been? A Team Mayku fave; Amaury Guichon whipped up this wonder in his kitchen in Las Vegas. The simple, yet inspired idea of taking something as simple as a PB&J sandwich and elevating it using fine chocolate and classic patisserie techniques adds a sense of delicious fun. This creation really highlights the level of detail possible with a vacuum formed mold under the right conditions.
You can find out more about Amaury Guichon and his Las Vegas based Pastry Academy on his website and give him a follow on Instagram for incredible edible sculptures and artistry.
https://www.instagram.com/p/B8rbM-2DekW/
4. Custom Cassette Tape Chocolate Bar Molds from 301 Chocolates, USA
Florida based, 301 Chocolates are making nostalgic and retro inspired chocolates alongside their main restaurant business. Joshua and his team have been adapting cassette tapes with logos to create custom chocolate bars to represent favourite bands or local musicians release celebrations. The FormBox makes it easier to offer small batch, custom shapes with chocolate.
Want to see more work from 301 Chocolates? Give them a follow on Instagram and drop them a line if you're ever feeling like a snack in the Florida area.
5. Iced Coffee Chocolate Dessert for Nespresso by Matt Adlard, UK
Online baking teacher turned food influencer and Food Network TV judge, Matt Adlard loves the ease at which he can test out unusual shapes or sizes for his dessert and chocolate molds. The FormBox has been particularly useful when designing one-off creations for collaborations like this one with Nespresso.
You can learn more about Matt Adlard's work and Bake it Better online school via his website and give him a follow on Instagram for his entertaining UK based live streams from the kitchen.
https://www.instagram.com/p/CDMX_nSlHE1/
6. Pencil Sharpener Dessert by Smita Grosse for Grand Hyatt Hotel, Hong Kong
Executive Pastry Chef at the Grand Hyatt Hotel, Hong Kong; Smita Grosse used the FormBox to add realistic details to her chocolate log cake. The dessert was formed in the shape of a mechanical pencil sharpener, a memory from her childhood. Smita uses the FormBox for prototyping, creating one-off bespoke work and for small batch production on desserts and chocolates.
You can follow Smita Grosse on Instagram and explore the beauty of Hong Kong's Grand Hyatt Hotel on their website, fingers crossed that we get to visit one day!
7. 3D Printed Face Easter Eggs from Meltdown Artisan, Australia
Meltdown Artisan earn a second place on this list because of their excellent use of digital manufacturing technology. As a Easter limited edition, the team used 3D scanning to create 3D prints of the Founder's faces, which were then made into two part molds on the FormBox for this slightly creepy but very delicious creation. They're looking at us!
You can see more 3D face scanning madness with the FormBox in this excellent video from Corridor Crew on YouTube. And don't forget to head over to Meltdown Artisan to explore more Australia based mmmm-magic.
8. Chocolate Bars inspired by Cardi B's hit song; WAP by Unnecessary Inventions, USA
We knew we'd be in for an unexpected treat when Matty Benedetto from Unnecessary Inventions got his hands on a FormBox but we were not expecting him to come at us with edible creations! Matty may not be a professional chocolatier but his skills with 3D printing and products designed to go viral made for some excellent mold-making viewing. The resin 3D printed original shapes made for a smooth, highly detailed mold.
Want to see more? You can watch the whole process of these Cardi B WAP inspired chocolate bars on the Unnecessary Inventions YouTube or TikTok.
9. Chocolate Vintage Microphone Dessert by Erik Möller, Sweden
Sweden based chef and desktop manufacturing fan, Erik Möller has been tinkering with a combination of found objects, laser cutting and FormBox mold making. Among his many experiments, this layered dessert in the shape of a vintage microphone stuck out as an excellent use of a two part mold. Check out all that amazing detail that was captured, bringing this novelty dessert to life.
For more desktop manufacturing inspiration from this chef in Sweden, you can follow Erik on Instagram.
10. Christmas Toys Chocolate Dessert Molds by Sonia Naanaa, United Arab Emirates
We love seeing the creativity of our customers and this make from Sonia in the United Arab Emirates definitely brought some smiles to Team Mayku. This intricate build featured a number of Mayku made molds to create the finished structure. Another great example of combining chocolate shells with cakes and other dessert types of truly one of a kind designs.
If you're interested in seeing Sonia's process she's documenting everything on her Instagram account, Tout de Sweet by Sonia.
Ready to get making? If you're thinking of purchasing a Mayku FormBox, you can request to speak to a specialist via the button below. Our team can help answer any questions and recommend a reseller local to you to help you through the simple set-up process.
If you're still looking for a bit more inspiration, you can check out our YouTube channel featuring tutorials direct from Mayku HQ alongside Playlists of making videos from some of the best creators on the internet. You can also drop us a line via @TeamMayku on social media or join our Facebook Group.
Happy Making!
Get in touch
Let's chat about possible applications or any other ideas or questions you might have. Book a call with a member of our team below.
Find a time
Submit a question
Want to know more? Send us a question and we'll get back to you as soon as we can.
Ask now
Find a reseller
Our certified resellers have invaluable application and workflow knowledge. Connect with a reseller near you.
Connect