From kickstarter to Company: How Mayku Grew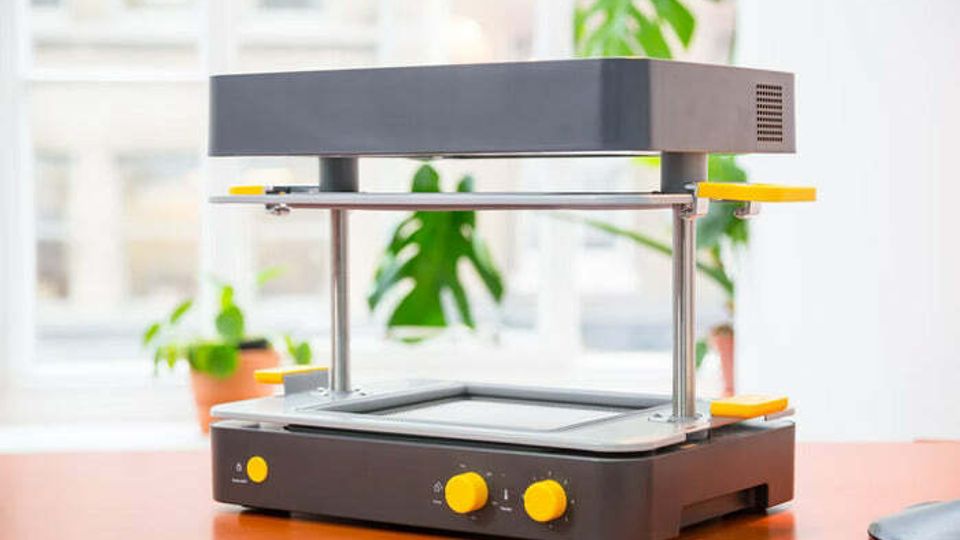 Previously on the Mayku blog: the FormBox Kickstarter campaign had finished, raising over 1,000% of its original goal and just under $600k. Alex and Ben had their exciting prototype desktop vacuum former and the funds they needed to level up the company. Here's what happened next.
FormBox 2.0 and the big launch
Mayku needed a partner for the next stage, so we partnered with the award-winning design agency Map Project Office, who specialise in physical design. Their brief was to tweak the design of the FormBox, make it easier to use, and set up production for scale.
By mid-2017, Ben was overseeing the building and review of the first fully assembled FormBoxes, fresh off the production line. Meanwhile, Map Project Office and the rest of the Mayku team were fine-tuning the next generation of the FormBox, adding the finishing touches and polishing off the finer details — surface textures, interface graphics and colours. The starter kit was also finished, so the first Kickstarter backers would soon start receiving their goodies and get making. It was all coming together.
In 2018, we finally launched.
Pastry chef Dinara Kasko started using the FormBox, and the word started to spread in the maker community. Before long, our community had grown to over 2,500 makers. By mid-2018, we had had more than $1m in preorders and a burgeoning community of thousands all over the world making and sharing their creations. But this was just the beginning of Maker Madness! Mayku had unleashed something in the creative communities, and it wouldn't stop.
Maker momentum builds
With the successful launch and funding of the FormBox, came a slight shift in goals. Mayku would now turn this explosive beginning into a flourishing company, to invest in both company growth and to expand our community of makers. The growth would support the community and the community would help support and inspire each other to realise their potential and turn their hobbies into businesses.
The FormBox wasn't just our first tool in a miniature desktop factory. It was (and is) revolutionary in the way it allows makers to create everything from lampshades to chocolates. Powered by your household vacuum cleaner, it's simple, stylish and just works.
The successful investors we name-checked in our last post, Robin Klein and Simon Murdoch shared our enthusiasm and continued to support Mayku as we raised a further £2m from follow-on investments. Our valuation doubled to £4m in one year.
And the team was growing. Robert Devereux, one of the founding partners of Virgin and one of our early investors, was so inspired by our vision that he joined our board of directors.
A taste of true success
Fast-forward to February of 2020 and Mayku achieved profitability for the first time. As with any startup, this was a huge milestone. At this point, we had some seriously big-name FormBox users. NASA and Nike were early customers. As were Bompas and Parr, famous for their breathable gin cloud and architectural jelly sculptures. Chocolatier Paul A. Young was enthused about the FormBox as he used his alongside a 3D printer to create bespoke molds to make some fantastically unique chocolates.
The success story doesn't stop with Mayku! We're just as (if not more) proud of the small business success stories. Graphic designer Ewa Leffman discovered the FormBox via social media during England's first Covid lockdown. She started to experiment with custom molds to create Jesmonite homewares. Ewa's creations stood apart from the crowd of other makers in her niche, who were using the same mass-produced silicone molds. Evolving quickly from a hobby to a legitimate side hustle, EVKA Home launched in September 2020 and her full-time career change soon followed. In early 2022, Studio EVKA, Ewa's expanded design studio launched. We can't wait to see what she does next.
Revolution begins at home
A revolution had started and momentum was building.Creators, artisans and small businesses were taking control of their own production. Manufacturing was being brought in-house (and even in-home), with almost infinite flexibility and affordability.
In just over 24 months, Alex, Ben and the Mayku team built a global network of partners to bring the FormBox to market. We developed our first software platform. We hired amazing people. We grew their customer base from two thousand to eight thousand over that same period.
Where to now?
It was time to take the Mayku tabletop factory to the next level.


Our Crowdcube campaign is live and has already hit overfunding. We're offering our community the chance to own shares in Mayku but we advise you to be quick as shares are offered on a first-come, first served basis.Invest on Crowdcube!
Investments of this nature carry risks to your capital. Please Invest Aware.
Get in touch
Let's chat about possible applications or any other ideas or questions you might have. Book a call with a member of our team below.
Find a time
Submit a question
Want to know more? Send us a question and we'll get back to you as soon as we can.
Ask now
Find a reseller
Our certified resellers have invaluable application and workflow knowledge. Connect with a reseller near you.
Connect