Create Flexible Vacuum Formed Molds in Minutes with the New FormBox Flex Sheets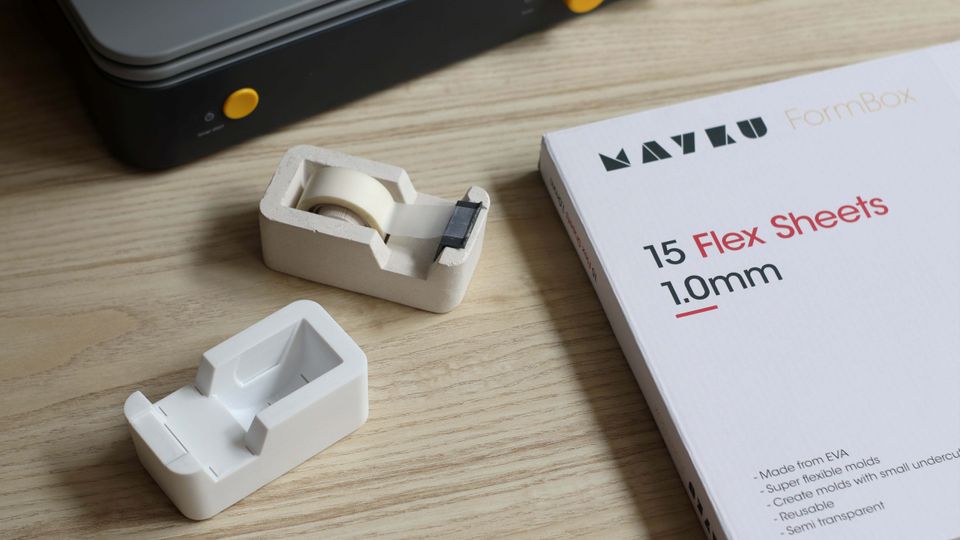 Are you ready to break the thermoforming rules and make flexible molds with vertical walls and small undercuts? Introducing our latest innovation in Mayku Sheets, Flex Sheets. Our community asked for it, we delivered.
You may have already spotted this exciting new material in our Multiplier campaign, but we're pleased to announce that the Sheets are now available to purchase for the FormBox!The Flex Sheets are a transparent sheet material that remains flexible after it has been formed, improving the demolding experience and enabling makers to incorporate small undercuts and vertical walls into their designs.
Undercuts: Mayku Flex sheets enable you to incorporate small undercuts into your designs whilst still being able to remove them from the mold due to the flexible nature of the material. This in turn enables you to create more complex, ambitious designs.
Draft angles: Rigid sheet materials require templates that have draft angles on any (almost) vertical plane that is part of the design. This ensures that the template can be removed from the rigid sheet material once it has been formed. Mayku Flex Sheets allow you to design templates without the need for draft angles on flat, vertical planes.
Improved demolding: Templates can sometimes be hard to remove from rigid sheets, even with draft angles accounted for. Mayku Flex Sheets enable easy, fast removal of template from mold without the need for specialist tools.
Mold resistance: Bend, twist and stretch your flexible molds without damaging them. Also, it's really fun to play with.
Ready to get making with Flex Sheets for the FormBox? Request to Speak to a Specialist to be connected with your local Mayku Retailer or visit our Materials store.
Get in touch
Let's chat about possible applications or any other ideas or questions you might have. Book a call with a member of our team below.
Find a time
Submit a question
Want to know more? Send us a question and we'll get back to you as soon as we can.
Ask now
Find a reseller
Our certified resellers have invaluable application and workflow knowledge. Connect with a reseller near you.
Connect