Create Custom Molds and Parts with a Smooth Edge using the Mayku Pro Mesh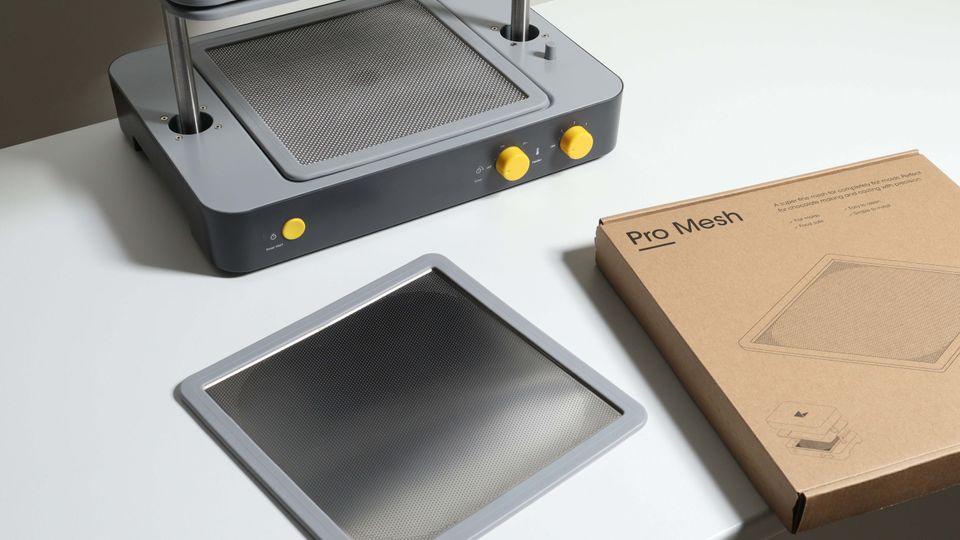 If the Flex Sheets weren't exciting enough, we've got another new FormBox accessory to show you. Let us introduce you...
The Pro Mesh is a super-fine metal bed accessory for the FormBox. It is made from 1.2mm stainless steel, which has been etched with 1000's of tiny holes to let more air escape from around the forms that you are vacuum forming. The Pro Mesh upgrades the standard mesh bed in your FormBox.
Photo:Before and After comparison of the original mesh tray with the Pro Mesh
The Pro Mesh has been created specifically for chocolatiers so that they can get a flat surface around their molds, which enables them to smoothly scrape excess chocolate off from around their filled molds. Although developed for and with chocolatiers, the Pro Mesh is also useful for any creator using FormBox made molds for casting - jesmonite, concrete, wax and soap, as well as for packaging prototypes.
Benefits of using the Mayku Pro Mesh
1. Sharper product edges
The array of tiny, dense holes enables more air to be drawn through the mesh, creating a tighter radius around the template that is being created. Molds made with the Pro Mesh will have a higher definition around the edge of the mold, making for a cleaner, sharper edge on the cast product.
2. Easier scraping
Due to the finer hole pattern, the surface surrounding the molded form is incredibly smooth and flat. This enables much cleaner scraping of excess casting material or a smooth edge for attaching to other parts.
To learn more about the Pro Mesh visit our Materials store, or to be connected with a retailer in your region that can offer local delivery on this product use our Ask a Question form and we'll connect you.
Get in touch
Let's chat about possible applications or any other ideas or questions you might have. Book a call with a member of our team below.
Find a time
Submit a question
Want to know more? Send us a question and we'll get back to you as soon as we can.
Ask now
Find a reseller
Our certified resellers have invaluable application and workflow knowledge. Connect with a reseller near you.
Connect