Revolutionizing microfluidics prototyping: Mayku Multiplier expedites production without costly tooling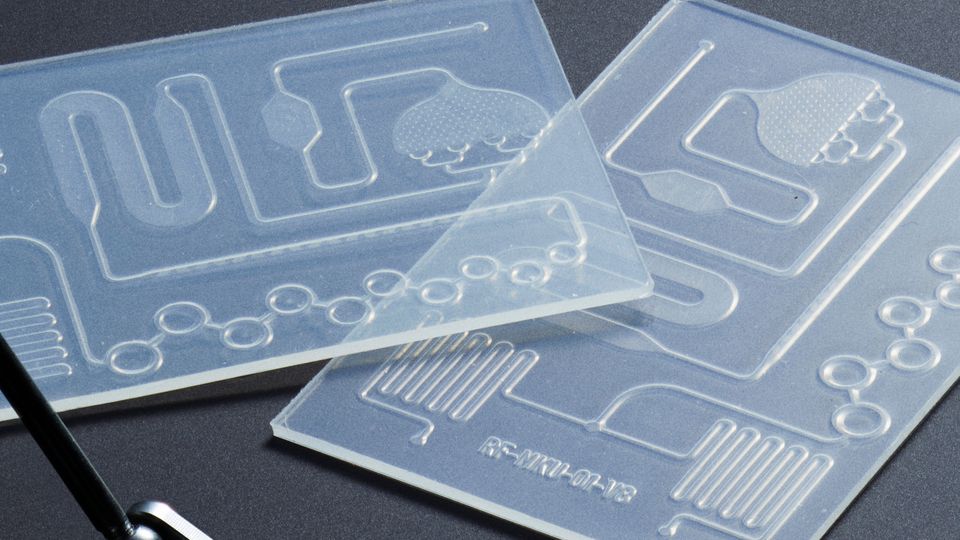 Our customer, Rapid Fluidics Ltd, specializes in developing cutting-edge microfluidic chips for medical diagnostics and scientific research. They are known for their innovative solutions using additive manufacturing for rapid prototyping. They required a fast, cost-effective way to produce larger batches of microfluidic chips in production-grade materials.
Before adopting the Mayku Multiplier, our customer encountered a significant challenge in small-batch production of microfluidic chips. Traditional methods were time-consuming and costly, often requiring expensive injection mold tooling that wasn't viable for smaller production runs. This hindered their ability to quickly bring both clients' and Rapid Fluidics' own new products to market.
To address these challenges, our customer chose to integrate the Mayku Multiplier into their workflow. They recognized that the Multiplier's advanced pressure forming technology could expedite the prototyping process and enable them to create smaller batches of microfluidic chips without the need for expensive tooling.
The implementation process involved training their team on the Multiplier's operation and fine-tuning the pressure forming settings for production-grade materials. Mayku provided extensive support to ensure a seamless integration.
Rapid prototyping:
The Mayku Multiplier slashed the time required for producing batches of microfluidic chips by 85% (see tables 1 and 2, below), allowing our customers to iterate and provide higher volumes of microfluidic chips incredibly quickly, without costly tooling investments or time-consuming tool production.
Material flexibility:
The Multiplier's versatility allowed our customer to use a wider range of production-grade materials, providing chemical and biological compatibility, high temperature resistance, and optical clarity. These properties are often desirable in the microfluidics industry. Looking along the product roadmap, the transferability of materials and design from the Multiplier to injection molding provides a huge advantage for those looking to manufacture at higher volumes in the long term.
Reduced costs:
By eliminating the need for costly injection-mold tooling, our customer reduced production costs by over 50%. (See tables 3 and 4, below).
Our customer discovered that embracing the Mayku Multiplier not only accelerated their product development but also offered a cost-effective solution for small-batch production in the highly specialized field of microfluidics.
"The Mayku Multiplier has been a game-changer for us. It has widened our customer base, opening up more production opportunities, and enabled us to serve niche markets without the financial burden of injection mold tooling. Our team is thrilled with the results."
— Paul Marshall, CEO, Rapid Microfludicis.
Our customer plans to continue using the Mayku Multiplier for rapid prototyping and small-batch production, ensuring that they remain at the forefront of innovation in microfluidics without the constraints of traditional manufacturing methods.
Assume a batch of 100 microfluidic chips, each measuring 75x25mm with a "typical" channel layout.
3D printing workflow
Time
Print time for fully enclosed part:
Post-processing (cleaning, curing, etc.)
0.5 hours (but it can be completed concurrently during subsequent print)
Assume a mold batch of 6 parts on the Mayku at one time.
Mayku Multiplier workflow
Time
Print time for 6x tooling molds: 
3 hours (0.5 hours / mold)
1 batch = 6 molds. 17 batches required 
61 hours (3 hours / batch)
Forming time: (12 minutes per cycle)
Post-processing time: (part removal, tape-sealing)
2 minutes / part (12 minutes / batch - can be completed concurrently)
7 hours. (Round up to 10 hours.)
Injection molding:
Cost:
Expedited molding (1 week lead time):
Mayku Multiplier
Cost:
Material cost: (20 EVA sheets)
Explore how Mayku can help your company revolutionize microfluidics prototyping and small-batch production. Contact us today to learn more about the Mayku Multiplier and its potential impact on your microfluidics innovations.

Read more about the Mayku Multiplier.
Is the Multiplier right for your application?
Tell us about your application and we'll get back to you asap.
Get in touch
Let's chat about possible applications or any other ideas or questions you might have. Book a call with a member of our team below.
Find a time
Submit a question
Want to know more? Send us a question and we'll get back to you as soon as we can.
Ask now
Find a reseller
Our certified resellers have invaluable application and workflow knowledge. Connect with a reseller near you.
Connect