Vacuum Forming: Top 10 Business Ideas in 2021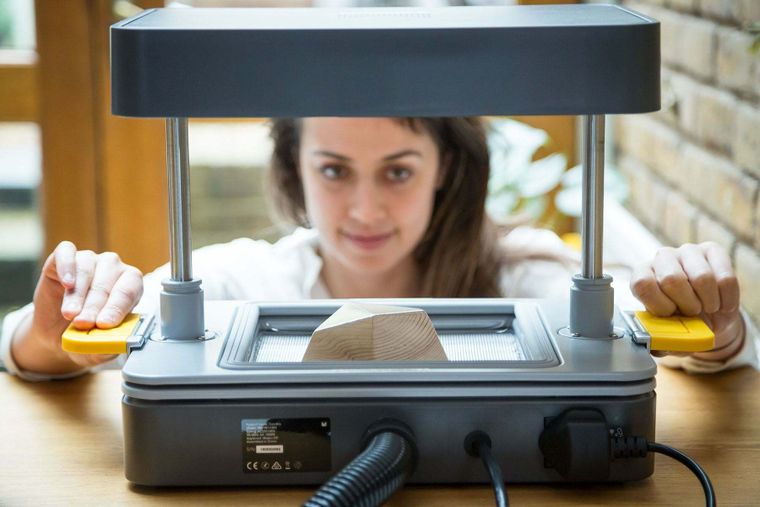 Wondering how to make money with a vacuum forming machine like the Mayku FormBox but don't know where to start? If you have a FormBox, you already know it. Vacuum forming helps you take product development to the next level. That's the easy part. The tricky part is choosing the best way to build a business around it, as there are so many amazing options.
In this article, we share with you some of our favorite vacuum forming business ideas, but you can discover more ideas by following @TeamMayku on social media or by joining the Mayku Community Facebook Group.
1. Packaging for limited edition products
Save time and money creating packaging for unique products with the Mayku FormBox. You can find standard boxes and blister packs in the market, but if you're creating custom or limited edition products, you want the packaging to be special too.
At Playdude, they know how important custom packaging is, and that's why they use the Mayku FormBox. This independent London-based company creates limited editions of toy figures to compliment their mainline of graphic t-shirts and quirky homewares. They used the FormBox to create packaging for a short run of designer toy figures made in collaboration with Blast Skates and Vans shoe company The House of Vans in London.
Discover how Playdude made custom blister packaging for a vinyl toy with desktop vacuum forming.
2. Custom molds
At Mayku, we help people make incredible things, and you can do the same. With the FormBox, you can create final products, but you can also produce high quality molds that can be used to cast a wide range of materials.
If you enjoy making templates as much as we do, you could become a mold-making expert and commercialize the molds themselves, allowing makers to create their own products. You could also offer custom mold design services for small businesses and creators by combining your FormBox with other desktop manufacturing tools such as 3D printing or laser cutting.
Forget about silicone molding. With the FormBox, you can make molds in minutes while picking up details finer than a grain of sand. Learn more about mold making with the FormBox.
3. Electronics products
Vacuum forming is a great alternative to injection molding or 3D printing when you're designing a new electronics product.
With vacuum forming, you can manufacture lightweight components with complex shapes faster than ever before. Forget about large production runs and outsourcing. Create an in-house production facility with the FormBox and make as many units as you need when you need them. Having the tools on your desktop will save you precious time as well as money.
4. Educational models
Design and create STEM projects around vacuum forming to transform classrooms into creative powerhouses.
Explore Mayku's suite of practical lesson plans built by teachers, learn how to use the FormBox in the classroom to help students, and improve their learning experience.
Once you fully understand how the FormBox can be used in the classroom, create your own projects, share them online, run workshops, or build a community around your ideas.
Discover how the Mayku FormBox can give students a hand-on STEAM learning experience on Mayku:Teach and our STEM Pack.
5. Jesmonite products
Want to create incredible products using environmentally conscious materials? Then you need to try Jesmonite.
Mayku has collaborated with Jesmonite to develop new ways to transform your ideas into great products. The FormBox completely changed the way designers and artists used Jesmonite, allowing them to create bespoke molds for Jesmonite designs in minutes.
Start designing your own product collections, test ideas in minutes, manufacture molds for workshops, DIY kits, or custom orders.
Discover how to create Jesmonite products with the FormBox.
6. Fashion & Accessories
If you're thinking about designing and making fashion accessories, the FormBox is a must in your studio.
The fashion industry has completely changed since online shopping became a thing. Customers want unique products, but they want them fast. How can you find the right balance?
With the FormBox, you can create final products or molds to cast a wide range of materials. Thinking about resin accessories? Then you should definitely check the incredible products that
Mia Winston-Hart
makes. x
Learn more about our Resin Sheets. They are designed specifically for making custom molds for casting resin. These sheets can also be used for prototyping, model making, and casting a world of other materials.
7. Cosplay
If you're into cosplay and prop-making, you know that 3D printing and post-processing always take more time than expected. With the FormBox, you can reduce the time it takes to make each prop while guaranteeing repeatability and product quality.
Start your own prop-making business and deliver quality products in no time, thanks to the FormBox. Create reusable molds of your favorite video game items in minutes, cast them in resin, or use vacuum-formed parts to create lightweight props.
Discover how prop-making company
The Forgotten Imp
creates outstanding props with the Mayku FormBox.
8. Concrete products
Concrete products offer an industrial look while being extremely resistant. However, you need to prototype first and make test molds, which take days to be ready to use.
With the FormBox, you can create concrete office supplies, decorative products, and many more objects. Start a business selling the finished products, the molds, the materials, or everything.
9. Custom chocolates
The FormBox gives you the power to create food in almost any shape, and with it, you can create edible treats quickly and affordably.
Forget about generic chocolate molds. With the FormBox, you can make the shapes you want and pick up details finer than a grain of sand.
10 Architectural Models
If you've built architecture models in the past, you know that you need to master a wide range of fabrication tools to create outstanding projects, from traditional techniques to 3D printing and laser cutting.
Finding the right balance between details, textures, and part weight is essential. With the FormBox, you can create thin, lightweight, and transparent models in just minutes.
Work on unique projects for architecture firms, create great educational resources, or sell architecture model kits on your own.
What you need to know before starting your business
At Mayku, we help creators turn their ideas into real products. However, we also understand that there are many things to consider during that process.
Understand the manufacturing process
Most products require more than one manufacturing tool. Make as many prototypes as you need to refine the manufacturing process. Optimize it and think about how implementing new manufacturing tools could help you scale production.
It's likely that the FormBox will be one of those required tools and probably the one that makes the most significant difference, especially on production time.
Know the different materials
Are you going to sell products directly made with the FormBox? The molds? Or maybe products made with those molds?
As you can see, there are many possibilities. Consider the material cost, required post-processing, and how different materials can be combined. Try to keep it simple at first, but listen to customer feedback to identify pain points and potential improvements.
Have a clear idea and business plan
A business model is more than just calculating the material cost and the expected profit.
Launching a product requires creating it and learning about logistics, production times, and marketing. If you don't have the time or resources to plan everything, consider a soft launch. That will allow you to learn on the go while your product evolves.
Choose the best tools to make the templates
Vacuum forming templates can be made with a wide range of materials. If you're a woodworker, you may consider creating the templates with wood. However, that may reduce the complexity of the templates and add an undesired texture to them.
Consider adopting digital fabrication techniques such as 3D printing or laser cutting to create unique templates in hours instead of days.
Find the right channels
There are many ways to offer your services and sell your products. You can start an Etsy shop, create your own website or sell through social media. Also, consider that promoting your business on social media has a big impact on the business goals, so don't forget about it.
Getting Started with Vacuum Forming and the Mayku FormBox
These are just a few of our ideas - remember, you also can form and mold with ice, foam, resin, silicone, plaster, Jesmonite, chocolate and much more. What are you excited to make with the Mayku FormBox?
For more inspiration head to @TeamMayku on social media or YouTube. If you have a question or are considering investing in a FormBox you can request to Speak to a Specialist at any time.
Let's have a chat
Let's chat about possible applications or any other ideas or questions you might have. Book a call with a member of our team below.
Find a time
Submit a question
Want to know more? Send us a question and we'll get back to you as soon as we can.
Ask now