How to Make a Mini Terrarium Plant Pot Using a Desktop Vacuum Former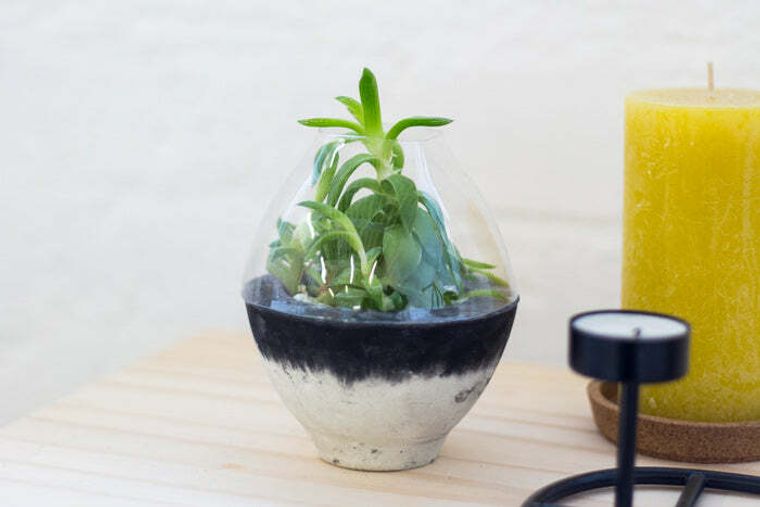 Want to add some greenery to your life? Intrigued by terrariums but can't be trusted with fragile glass items? Then this DIY vacuum forming project is for you. Today we show you how simple it can be to take an ordinary household object and transform it into something totally different in the matter of minutes.
Most of our Mayku Made projects involve using our Sheets to create custom mold that can then be reused to case a variety of different materials. This time, we're going to show you how you can incorporate the actual plastic sheets into your finished design.
What You'll Need
Mayku FormBox
2 x Clear Mayku Sheets of your choice
Small dipping bowl
Cement powder
Cement dye
Stirring sticks
Plastic cup
Vaseline, Baby Oil or other Mold Release
Fine sandpaper
How to Make a Vacuum Formed Concrete Plant Pot with Transparent Dome
1. First, you'll make the mold for your planter's base. Choose a suitable bowl and place it on the FormBox forming best. For best results place it central and ensure there's enough room around it to successfully form. Create the base mold.
2. Next, you'll make the dome for your planter. A clear Mayku Sheet can be used so you can admire your plants growing! Form your dipping bowl again using your second transparent sheet and set it to one side.
3. Mix up some concrete, Jesmonite or plaster according to the instructions. Slowly add small amounts of water and keep stirring until you've got a smooth, thick consistency, ready to pour!
4. Pour the concrete into your planter's base mold. Fill the mold about halfway up.
5. Mix two teaspoons of your chosen dye into the remaining concrete. Pour the dyed concrete into the mold until it's about three-quarters full.
6. Cover the outer bottom half of the plastic cup in Vaseline or Baby Oil. Keeping it centered, carefully push the cup in your concrete-filled mold until the concrete fills the mold to the top. Leave to set for about 48 hours.
7. Grab the dome you formed earlier and carefully cut it out around the base. Then, cut a hole in the top so your plants can peak out. Lightly sand the edges of the dome so it's totally finger-safe.
8. Once the concrete is completely dry, remove the cup and gently push the concrete out of the mold. Sand down any sharp edges and smooth the surface. Now you can pop in your plants and place your dome over the top! Ta-da!
There are lots of different ways to use concrete, Jesmonite or plaster in your making - what do you have in mind? Feeling inspired? You can follow @TeamMayku on social media for more ideas or request to Speak to a Specialist today to learn how the FormBox could improve productivity for your project.
Let's have a chat
Let's chat about possible applications or any other ideas or questions you might have. Book a call with a member of our team below.
Find a time
Submit a question
Want to know more? Send us a question and we'll get back to you as soon as we can.
Ask now