Smallest 3D print ever made accidently squashed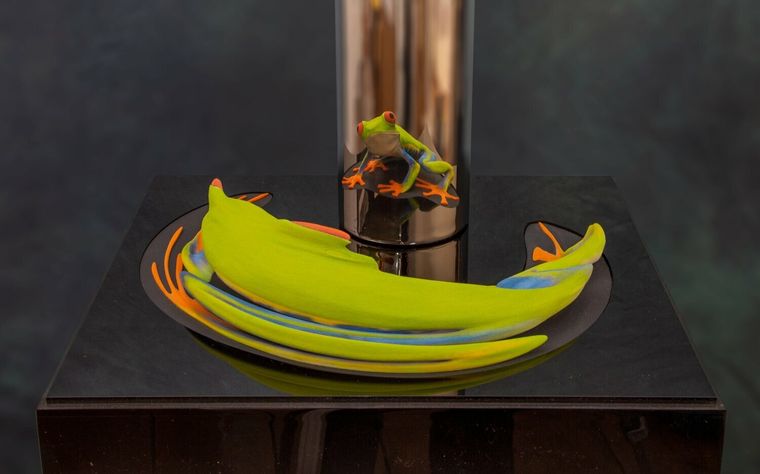 Artist Jonty Hurwitz used a new 3D printing technique on a nanoscale to make the smallest depiction of the human form ever created.
'Trust', 'Cupid and Psyche' and 'Intensity' could each balance on a human hair with plenty of room to spare, or sit on the forehead of an ant. Viewing and photographing the sculptures required a powerful electron microscope and a lab technician trained to find really, really tiny things.
The technique focuses UV wavelengths through a microscope onto a light-sensitive polymer. Two photons are absorbed together to create one tiny voxel, and over several hours, the sculpture's layers are assembled. In principle, this is the same technique your dentist uses when a filling is hardened by UV light.
After getting the first few images, the assisting technician tried to rotate the orientation of the nano sculptures. But when viewed through the microscope a second time, only the grooves of a fingerprint remained.
For Hurwitz, his work was an exercise in full-circle makerism.
'This nano sculpture is the collective achievement of all of humanity. It is the culmination of thousands of years of R&D.
They represent the moment in history that we ourselves are able to create a full human form at the same scale as the sperm that creates us in order to facilitate the creation.
It's a bit like breaking the artistic sound barrier.'
This isn't Hurwitz's only experimentation at the intersection of art and science: he's interested in the beautiful expression of data both big and small, running the risk assessment website DueDil, co-founding controversial payday loan company Wonga, and devising "algorithmic" sculptures using mirrors and warped perspective. His dive into the 3D printing world begins to unveil maker tech's huge potential across different disciplines.
Let's have a chat
Let's chat about possible applications or any other ideas or questions you might have. Book a call with a member of our team below.
Find a time
Submit a question
Want to know more? Send us a question and we'll get back to you as soon as we can.
Ask now