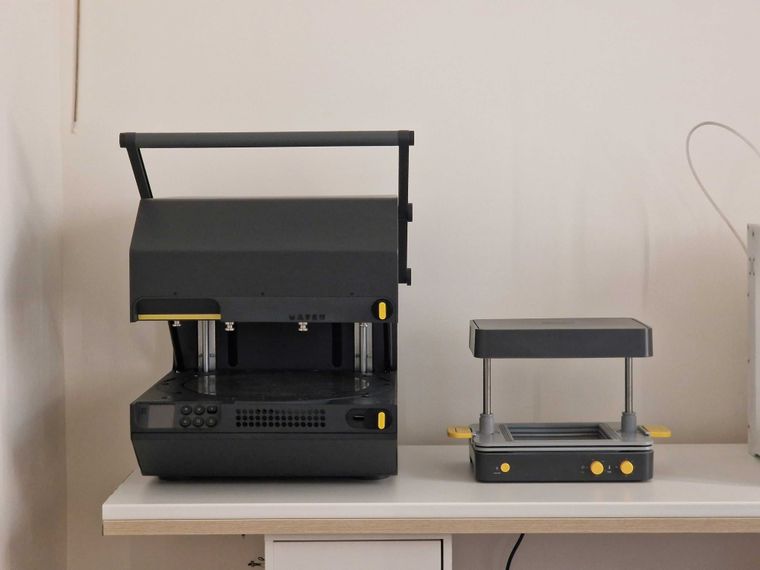 In our last blog post, we left you in 2020 with the FormBox making waves across the making community. Brands like NASA and Nike and the maker community were singing its praises, and we had a customer base edging towards five figures. Spoiler alert: it didn't end there.
As sales went beyond the ten thousand mark, Ben and Alex felt there was more we could be doing for the maker community. So they went out and spoke to hundreds of customers, of all different types, to find out how they were using their FormBox. They went to industrial design studios to kitchens and craft workshops, and what they uncovered inspired Mayku's next big move.
FormBox feedback
Hundreds of people provided a lot of feedback, and Ben and Alex combed through it all in search of trends and commonalities. Some people had bought multiple machines and were using them as a fundamental part of their business. This was exactly what Mayku had predicted - makers levelling up their businesses but without having to outlay huge sums for traditional production methods.
But some were finding themselves limited by the size of the FormBox. Something that came up time and time again in feedback, was the desire to make bigger things from a broader range of materials.
While the FormBox was loved for its simplicity for small projects, other forms of molding materials like silicone and polycarbonate were still superior in terms of their capacity to pick up very fine detail.
Mayku had uncovered a new standard of what power to the makers could mean - the community wanted bigger, in more materials, and they wanted intricacies and fine detail. Alex and Ben were determined to give it to them.
Bring on the Multiplier
In our last blog, we briefly mentioned how we hired awesome people. One of those people is Will.
Will is a Mayku engineer who came to Ben and Alex one day and told them he had a crazy idea. He wouldn't say what, he just asked for a month to go away and work on it. Interesting, totally mysterious and utterly irresistible! Ben and Alex trust the Mayku team and their ideas implicitly, so of course, Will got the time and resources to work on whatever it was that he had in mind. He returned with a little box. Out of that box came one of the most incredible forms we'd ever seen. It had an almost injection-molding level of quality, with unbelievable surface detail and definition. The form was picking up detail finer than a human hair, it could pick up felt pen marks on a piece of paper. It was unprecedented and like nothing we had ever seen before.
The process Will had used to create this mind-blowing sample was pressure forming. It's typically an industrial-scale process that uses pressurised air to produce incredibly detailed parts. Until now it had never been done on a small scale. But thanks to Will, we had the way forward to build and produce another desktop-sized machine, which could create and utilise an astonishing four tonnes of pressure to deliver a mold in under a minute. In Ben's words, it was truly spectacular.
Teenage dreams
Mayku are committed to working with the best possible partners whether it's finessing the machine experience or the logistics of worldwide supply. Mayku had a brand new technology that had been created in house and there was honestly only one choice of design partner to create a stunning user experience and industrial design for our new machine.Enter: Teenage Engineering. They're a company that matches our passion and their industrial design is globally revered. We'll admit it, we're obsessed with them - even before we worked with them directly, and the feeling has only increased.
The Mayku Multiplier had arrived
Powered by pressure-forming technology the Mayku Multiplier can produce incredibly finely-detailed molds in one minute. It has a much larger 400mm bed size (but still fits on your desktop) and a range of material sizes from 0.25mm all the way up to 8mm. It can pick up 0.0004mm of detail - finer than a human hair. The Multiplier gives users unprecedented speed and control over their making process.
The sky's the limit from here. Feel like being part of the adventure? Find out how you can join our revolution and own a piece of Mayku on our Crowdfunding page. We've already hit overfunding so we advise you to be quick if you want to get involved!
Investments of this nature carry risks to your capital. Please Invest Aware.
Let's have a chat
Let's chat about possible applications or any other ideas or questions you might have. Book a call with a member of our team below.
Find a time
Submit a question
Want to know more? Send us a question and we'll get back to you as soon as we can.
Ask now