Introducing the Mayku Forum!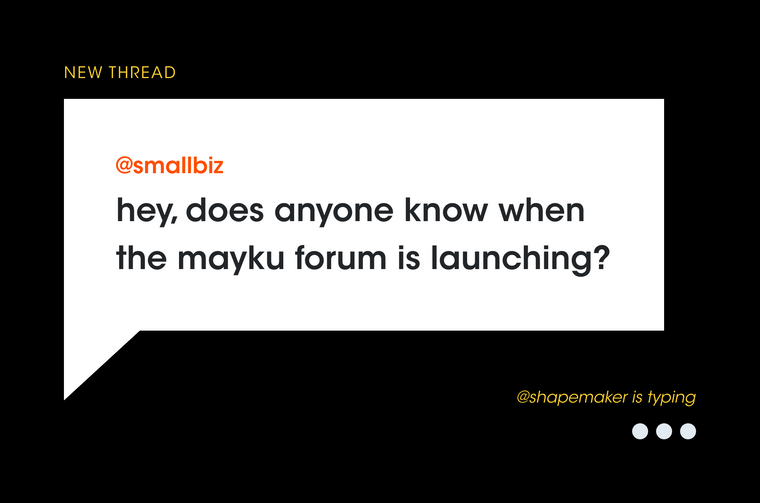 At Team Mayku, nothing makes us happier than hearing from our worldwide community of makers and sharing their work and stories. This is why we created a new space for our creators to share what they've been creating without the need for logging into a social media platform - introducing the Mayku Forum! 🚀
The Mayku Forum is a dedicated space for creators from all industries to share their projects and learn more about the Mayku FormBox, our accessories and new products. Whether you are new to the FormBox and the world of vacuum forming and are looking to learn more about the machine before buying one for yourself or are a seasoned professional who is well experienced in using vacuum forming in your workflow, there's a channel for you.
The Forum is broken up into 3 sections; General, FormBox and Queries
General is home to our Announcements channel, where Team Mayku will share any exciting news and announcements and updates so that you are always on top of any new developments.
This section is where forum users can send in their honest feedback and product suggestions. We take pride in having an open dialogue with our customers so we welcome any feedback with open arms. Similarly, we can't promise every product suggestion will come to fruition but we will definitely look into each one we receive. Watch out for opportunities to become Mayku BETA Testers too, we're always looking for FormBox users to give feedback on new products, accessories and concepts.
House Rules is our read-only channel - this is where we have our code of conduct. We have creators from lots of different industries worldwide, so it's important to set ground rules to ensure we all treat each other with respect and know what behaviour is unacceptable.
The FormBox section is where we have different channels for users in different industries. Whether you work with Jesmonite, chocolate or resin. Someone in these channels will have the answer you're looking for - simply join the channel that most interests you and start a thread!
The Queries section is where things will get a little bit more particular. Our FAQ channel is for any specific queries you may have about how the FormBox functions, from what the sheets are made of to cleaning the vacuum forming bed, all your questions will be answered here.
Advanced Tips is more of a specialist channel - this is a space for users to share advanced vacuum forming tips and hacks. These tips may often be from fellow users rather than the Team Mayku, offering potentially experimental methods that may go beyond the manual. If the advice doesn't come from Team Mayku, we cannot guarantee that it will work or that it won't damage your machine or injure you in the process, so please be smart and do your own research too.
How can you get involved?
You can read and search the forum's public channels without signing up, but if you want to like, comment or start a thread you'll need to create a (free) account. Get involved, escape social media for a while and come and speak directly to fellow makers and creators in a safe space.


Want to learn more? You can follow @TeamMayku on social media, join our Facebook Group, the Mayku Community or request to Speak to a Specialist at any time to find out how you could use a FormBox for your next project.
Let's have a chat
Let's chat about possible applications or any other ideas or questions you might have. Book a call with a member of our team below.
Find a time
Submit a question
Want to know more? Send us a question and we'll get back to you as soon as we can.
Ask now