How to make the most out of Mayku Teach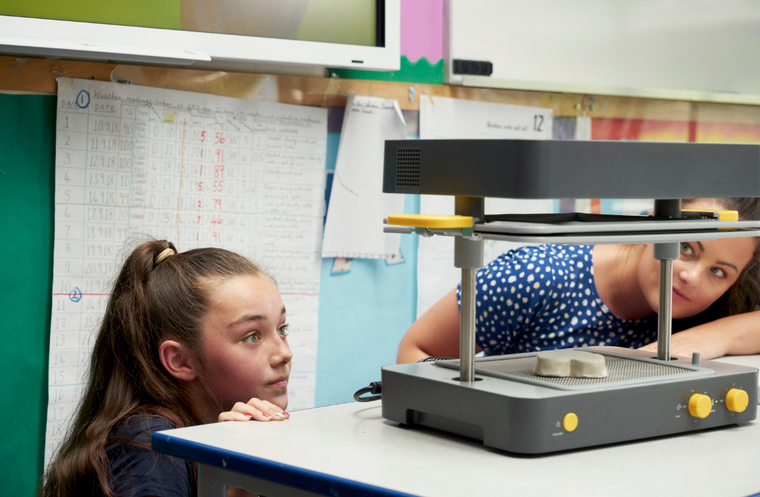 On Tuesday 15th October, we launched Mayku Teach, a new education platform whose aim is to inspire children to love learning through making and transform them from consumers into creators. It consists of an online portal and a desktop vacuum former: the FormBox.
The portal contains downloadable resources, such as lesson plans and videos, for practical teaching in the STEAM subjects (science, design & technology, engineering, art and mathematics) using the FormBox. Here's how to join the cutting-edge pedagogical movement:
Contact your education reseller:

Mayku Teach is available to purchase from all good UK education resellers. If your school doesn't use a specific reseller, you can find a list of those that sell Mayku Teach at

teach.mayku.me/resellers.
Set up an account:

Mayku Teach comes as a package – the Formbox and the online portal, the latter of which requires an account to access. The first 50 subscribers will receive free lifetime access to an ever-growing bank of lesson plans and other downloadable resources. After that, the price of membership will be included in the whole Teach package.
Onboarding:

Once you've set up your Mayku Teach account you'll be able to start teaching using practical lesson plans written by top education professionals. Every aspect of onboarding has a corresponding step-by-step instructional video. These can be found

here

.
Buying supplementary materials/resources

: Many of the Mayku Teach lessons require supplementary materials. These are usually everyday classroom objects like a pair of compasses or sheet of paper, but you may occasionally be required to purchase something like a lolly stick or packet of seeds. Anything listed as an additional resource will be available to purchase with one click from Amazon.
Get involved:

Part of Mayku Teach's mission is to create and foster a community of teachers. An education platform is nothing without the teachers who use it and the children who are taught from it. Mayku Teach will host regular networking events to bring together education professionals looking to stay up to date with the latest pedagogical approaches. There will also be a page within the portal, and on our social media, where teachers can share tips, techniques and examples of their students' work.
If you have any questions about Mayku Teach please get in touch at
hello@mayku.me
.
Let's have a chat
Let's chat about possible applications or any other ideas or questions you might have. Book a call with a member of our team below.
Find a time
Submit a question
Want to know more? Send us a question and we'll get back to you as soon as we can.
Ask now