How to Make Custom Molds for Vegan Jelly using a Thermoforming Machine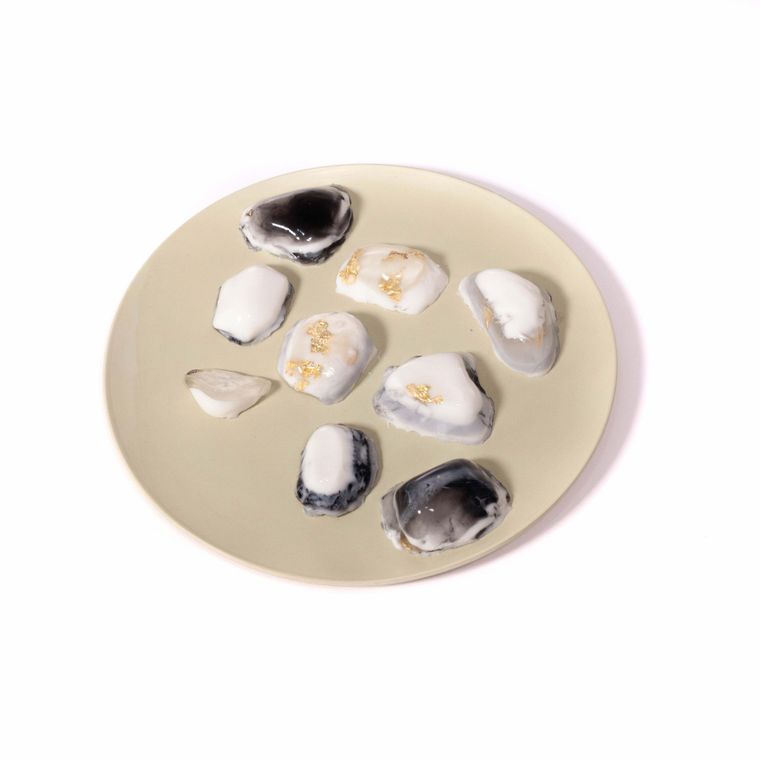 Creating unique forms for molding foodstuffs is quick and easy with the FormBox. Make, find or 3D print an original shape, pop it onto the bed of our desktop vacuum former and you'll have a custom mold made in minutes and ready to work with instantly. Goodbye off-the-shelf molds, so long waiting for silicone to cure, the Mayku FormBox is an excellent solution for prototyping and manufacturing custom molds for gelatine, chocolate and much more.
For this recipe, we used air drying clay to make the templates for our layered Vegan coconut 'jello stones'. Using clay as a mold making basis allows you to harness your traditional arts skills to create a wide variety of shapes and textures. If you'd like some inspiration on how to sculpt polymer clay in preparation for vacuum forming, check out our blog guide from Adele Morse.
Materials & Tools
Air drying clay
Knife / cutting tools
Sponge
Ingredients
Agar Agar
Coconut milk
Coconut water
Palm sugar
Pandan leaf or vanilla
A pinch of salt
Optional Extras
Edible gold leaf
Food colourant (black cocoa powder etc)
Coconut flesh
Pipette
How to Make Clay Templates for Vacuum Forming Molds
Set yourself up on a flat, non-porous surface.
Sketch out the rough dimensions and form of your desired shapes.
Pinch off or cut clay from the block with a wire and start kneading to make it more workable.
Break up into individual pieces, with your hands or a tool, and start to form your templates, bearing in mind that templates perform best when the sides are drafted and the width is greater than the height.
Smooth the surface of the clay using a sponge or your fingertips and a small amount of water.
Clay is great at picking up texture if so desired; you can easily create an imprint or use a tool to design your own.
Allow the clay to dry fully before molding.
How to Create a Custom Mold in Minutes
Position the clay piece or pieces on the FormBox mold maker, making sure to leave some space between each one and not to place them too close to the edges of the forming best.
Insert a Mayku Sheet and watch carefully as it heats up and droops in the centre.
Release the handles and allow the plastic sheet to form around the template pieces.
Leave the plastic to cool for a few seconds and then remove from the machine.
Your mold is ready to use – make sure you wash your form before putting any edible ingredients inside.
How to Make Vegan Jelly with Coconut Water and Agar Agar
Add the agar agar to coconut water and stir.
Add sugar to taste and pandan leaf or vanilla pods to infuse the liquid.
Bring to a boil while stirring.
Edible gold leaf can be added for decoration once the mixture has cooled.
How to Design a Second Flavour of Vegan Jelly Using Pandan or Vanilla
As before, add the agar agar to coconut water and stir, before adding coconut milk, sugar, salt and pandan or vanilla.
Bring the mixture to a boil and stir until all the agar agar has dissolved.
Fresh coconut flesh can be added for texture.
How to Create Layered Jelly Art in the Vacuum Formed Mold
The jellos can be layered or marbled together to create different effects. Food colouring can be added to enhance the contrast. A grapeseed oil (or similar) can be brushed into the mold beforehand to assist with jello removal.
To layer, neatly pour the coconut water jello into the mold and chill. When the surface is cool and firm to touch, add a layer of coconut milk mixture, pouring in off the back of a spoon. Chill again and continue layering until the mold is full. A pipette or skewer can be used to combine different coloured jellos and create a marble effect.
Once fully firm to the touch, the jello will be ready to remove from the mold. Try and apply the greatest pressure to the deepest part of the mold. If you need to create further give, the mold can sit in some warm water for a few seconds to loosen around the edges.
The FormBox allows you to try out different forms and techniques at speed – let the experimentation begin!
Let's have a chat
Let's chat about possible applications or any other ideas or questions you might have. Book a call with a member of our team below.
Find a time
Submit a question
Want to know more? Send us a question and we'll get back to you as soon as we can.
Ask now