How to 3D Print your own Brain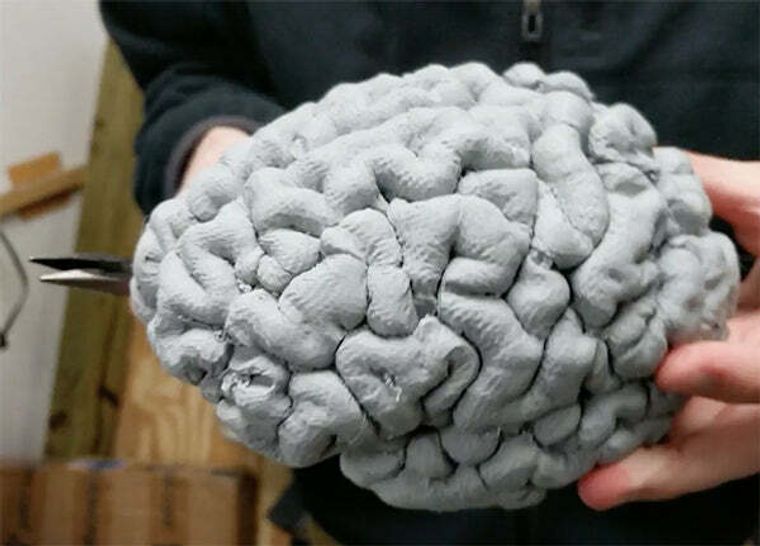 If you feel like having an existential crisis, holding your own brain in your hands sounds like a great trigger.
It's surprisingly easy to make an accurate anatomical print of your own body: all you need is the raw data from any MRI or CT scan, open source software, and your 3D printer.
Many makers who needed an scan to pull this off found local teaching hospitals more than happy to help - some even got paid for their time!
If you're just looking to give this one a go without using your own data, you can find lots of different bio-med STLs here.
If you're using a fresh scan, you'll need to filter out the structure of your brain using software like Freesurfer of fsl. These work by segmenting different densities from the scan, and can be used for many other body parts - we've heard prints from jaw bones work especially well and make an impressive sideboard piece.
This example by a Reddit user was printed at 0.1mm layer height and took around 86 hours in total. But now @WayGroovy has a 1:1 model of his own brain, so we're going to say it was worth it.
You can find more detail on Instructables, GitHub, or in this Reddit thread. If you fancy trying a bio-med print - show us the results! Team Mayku love weird and wonderful makes.
We can think of tons of ways to make incredible gifts or decorations with anatomical prints - how about brain soaps, heart chocolates, or skull lamps?
Let's have a chat
Let's chat about possible applications or any other ideas or questions you might have. Book a call with a member of our team below.
Find a time
Submit a question
Want to know more? Send us a question and we'll get back to you as soon as we can.
Ask now