How to Make a Candle Stick Holder with Vacuum Forming and a 3D Printer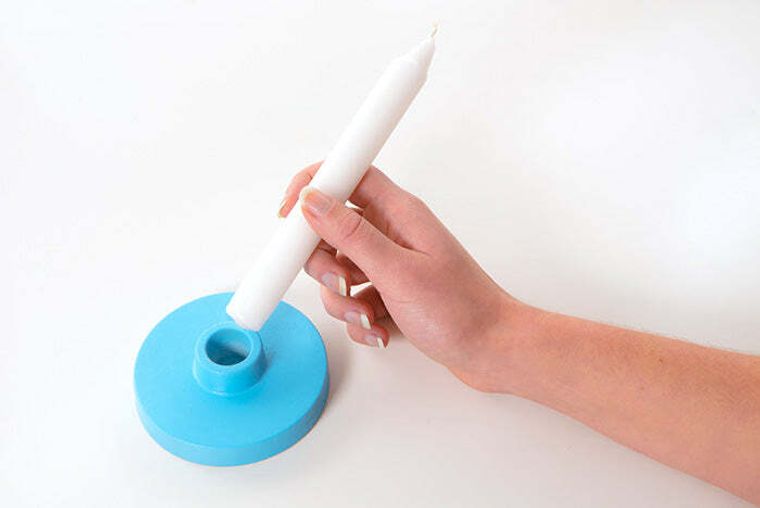 Interested in making and designing your own line of homewares? This tutorial will be sure to light a fire under you to try a new DIY mold making project. Today, we show you how to take a 3D render from 3D printed part to gorgeous, custom mold in which to cast a variety of materials including Jesmonite, plaster, concrete or resin.
The Mayku FormBox allows you to create an instantly usable and reusable mold within minutes and it works great alongside other desktop manufacturing tools like a 3D printer, laser cutter or CNC mill. If you're not feeling that high tech you can achieve equally beautiful results from masters made in polymer clay, air drying clay or carving a shape out of wood, Lino or even a potato!
We hope this Mayku Made project will get you inspired...
Mold making using a 3D printer and vacuum forming
First up, you'll need to gather your supplies. Hopefully you'll have some of these things already since they are popular tools in any workshop or creative studio. If not, you'll find a great selection of materials from your local arts and craft store.
What You'll Need‍
3D printer
3D printing material
Sandpaper
All-purpose primer
Casting material: Jesmonite, concrete or plaster will work
Paint - anything will work, but we like enamel spray
Standard long candle (around 20mm at base)
How to Make a Candle Stick Holder with Custom Mold
T‍o help you accelerate your first candle stick make, we've only gone ahead and made you a STL file to download and print, feel free to edit and amend as you please. Once you've perfected your original object, you're ready to multiple your shape into as many molds as you require.
1. Download the STL file for this projecthere so that you're prepped to 3D print your candlestick holder template. You can open and print this using your preferred software (see a great list or recommended softwarehere).
2. Print the object using the settings that work for you. The material is your choice - PLA, ABS, woodFill, etc. Just remember 3D print material can be flammable, but we'll be adding a flame-proof layer of paint and primer.
3. After your print is finished, gently sand off any excess, supports, or sharp edges. You might want to use a variety of grades of sandpaper and/or a Dremel Multi-Tool to perfect the surface finish. As the FormBox picks up a lot of detail, it's important to create the ideal finish before you vacuum form.
4. Cover your print with one coat of all-purpose primer. We like spray varieties for an easy even distribution, but getting hands-on with a pot and brush also works fine. Leave to dry.
5‍. Your master shape is now ready to put in the FormBox. You can follow the instructions on this video to learn how to vacuum form your mold ready for casting.
Custom Candlestick Mold in Three Easy Steps
To summarise, using the Mayku FormBox for custom mold making is super simple. There are just three core steps to any vacuum forming process when creating a custom mold for casting:
Find or 3D print your original shape
Use the Mayku FormBox to form a custom mold
Cast your material and let it dry ready for finishing
6. Using a paint and design of your choice, decorate your candle holder. If you've primed your final object too, you can use almost anything to paint it. Our makers have used a tough enamel spray paint as it's easy to clean and gives a smooth finish.
7. When your painted candle holder is completely dry, you're ready to pop in your candle! This print will fit any standard long candle with base width 25mm.
Although it would be possible to create this design solely with 3D printing, when it comes to producing more than one, 3D printing becomes highly time consuming and expensive. This is why using 3D prints to create custom molds is a great idea. The Mayku FormBox made molds allow designers to save time, whilst also unlocking a variety of materials that might otherwise not be possible.
Interested in learning more about custom mold making with the Mayku FormBox? Check out @TeamMayku on social media, browse our blog or request to Speak to a Specialist today to be connected to a reseller in your region.
Let's have a chat
Let's chat about possible applications or any other ideas or questions you might have. Book a call with a member of our team below.
Find a time
Submit a question
Want to know more? Send us a question and we'll get back to you as soon as we can.
Ask now